Doing a plumbing Intermediate Apprenticeship
Emma Finamore
Last updated 22 Jan 2019
Explore the apprenticeship options available in plumbing, for those wanting to complete an Intermediate Apprenticeship.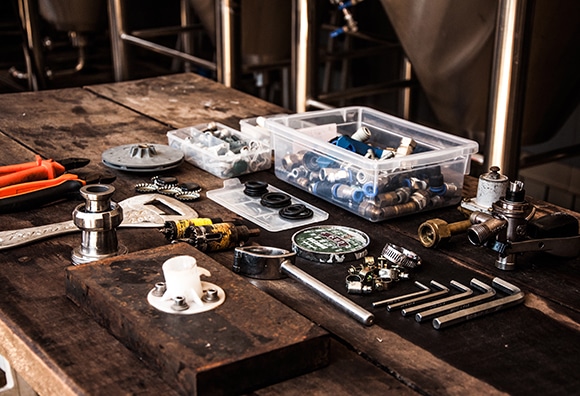 Plumbing is a very traditional Intermediate Apprenticeship route, sitting within the government's Construction, planning and the built environment apprenticeship framework.
The plumbing industry is a key part of the UK's construction industry. It's a highly competitive field that employs skilled craftspeople and technicians who work with a wide range of materials and technologies. Plumbers must be familiar with everything from domestic boilers to advanced welding techniques to computerised control systems.
From installing sanitation systems and servicing boilers to laying underground drainage pipes, plumbers work for the construction industry as well as for commercial and domestic clients. In recent years, the industry has also been involved with developing environmentally sound technologies like solar water heating and rain water harvesting.
As a plumber, you could find yourself working in many different places – from construction sites to residential homes. Job prospects are good, with plenty of scope for self-employment.
Plumbing Intermediate Apprenticeships: skills
As a plumbing Intermediate Apprentice, you'll learn about the installation and maintenance of plumbing systems and components. You be working under minimal supervision to complete the installation and maintenance of domestic hot water, cold water, sanitation, drainage, rainwater systems, central heating systems and components.
At the Intermediate level (Level 2), apprentices train to be plumbers, at the Advanced level (Level 3) apprentices train to be advanced plumbers.
Plumbing Intermediate Apprenticeships: jobs
Here is an example of a plumbing Intermediate Apprenticeship job vacancy, to give you a detailed idea of the opportunities out there:
Ashton Plumbing & Heating – Apprentice Plumber (Intermediate)
The chosen candidate will be working towards their NVQ level 2 in Plumbing whilst at Ashton Plumbing & Heating They will be completing all aspect of plumbing & heating working under the supervision of a Journeyman or Master Plumber.
The apprentice will mainly work as a 2 man team that is responsible for installation of Plumbing for domestic properties. The type of work would include Non-Gas Central heating systems and other plumbing work including bathroom & kitchen installations.
· Construction pipe systems
· Pressurising systems
· Detecting leaks
· Making adjustments to surrounding environments to accommodate new water tanks
· Clearing away debris
· Cleaning & maintaining tools
Qualifications required
Ideally five GCSEs (or equivalent) at D grades or above
Apprenticeship duration
Two years
Image courtesy of Wesley Caribe
More articles like this