Doing an Intermediate Apprenticeship in the army
Emma Finamore
Last updated 21 Jan 2019
Explore the apprenticeship options available in the army and armed forces, for those wanting to complete an Intermediate Apprenticeship.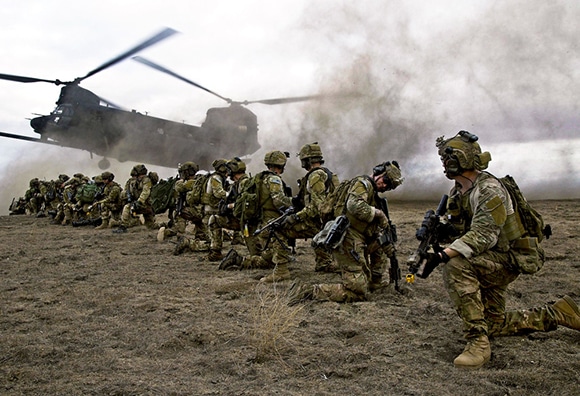 The British Army, or HM Forces, has traditionally been an alternative to university for many school leavers, but what many might not know is that army apprenticeships are available, and at Intermediate Apprenticeship level.
The aim of apprenticeships is to provide training that is closely linked to a job, so the apprenticeships offered reflect whatever Army role is chosen. The Army offers apprenticeships in many careers, including:
Engineering
Information and communications technologies
Construction
Driving
Animal care
New programmes to fit with Army training are being developed all the time.
As an Intermediate Apprentice, school leavers could train in roles like:
Sailor (Royal Naval Service)
Marine (Royal Naval Service)
Combat infantry (Army)
Airman/Airwoman (RAF Regiment)
Working for the Royal Naval Service as a sailor or marine or as an airman in the RAF Regiment, for example, apprentices carry out duties including force protection, and overt or covert missions: aggressive, peacekeeping or humanitarian.
A combat infantryman (CI), as another example, is a specialist role in which you would be expected to partake in high-risk combat operations. CI can also expect to undertake peace keeping and humanitarian roles.
Each apprenticeship fits in with military training and is closely related to a soldier's army role, so as well as becoming a better soldier, they are working towards a qualification that will be valued by civilian employers. Apprenticeships in the Army are delivered on full pay.
Intermediate Apprentices may then progress onto Advanced Apprenticeships in the Army, which apply to the Army's technical trades. Advanced apprentices gain the relevant technical certificates through their trade training as well as an NVQ Level 3 and key skills.
And an army Intermediate Apprenticeship is only the start: every job in the army offers the opportunity to progress to gain professional skills leading to higher qualifications, including full bachelor's and master's degrees.
More articles like this