Doing an Intermediate Apprenticeship in hairdressing
Emma Finamore
Last updated 21 Jan 2019
Explore the apprenticeship options available in hairdressing, for those wanting to complete an Intermediate Apprenticeship.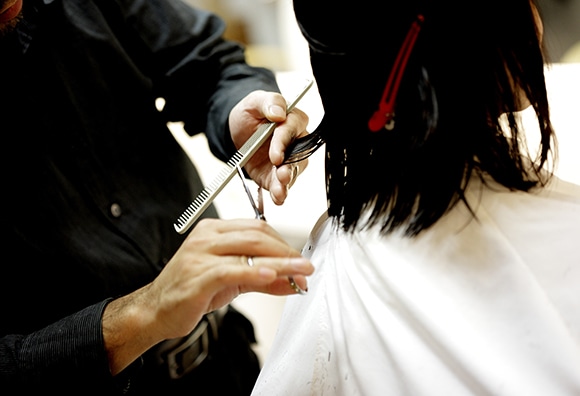 Hairdressing is a very traditional Intermediate Apprenticeship route, sitting within the government's retail and commercial enterprise apprenticeships framework. Those doing Intermediate Apprenticeships in hairdressing can expect a structured career path into their dream job and industry.
Hairdressing apprenticeships train you in the basics of hairdressing. As a hairdressing trainee on an Intermediate Apprenticeship, you'll work as a salon junior, assisting senior staff while training as a junior stylist.

Training and skills opportunities for Intermediate Apprentices training as junior stylists can include:
· Booking appointments
· Shampooing
· Conditioning
· Drying and styling hair
· Mixing and applying hair colouring
You'll study topics such as hair and skin testing, the effects of chemicals on hair and skin, and the principles of hair colour selection – there's also the option to learn about promoting products, perming, or relaxing different types of hair.
Barbering apprenticeships are also available at Intermediate level, training you to specifically cut and style the hair of men and boys. Intermediate level apprentices usually train for the position of junior barber.
On this Intermediate Apprenticeship trainees will also learn about (and be tested on) other issues related to barbering such as:
· Hygiene
· Disposing of chemicals
· Working in a team
· Giving client consultations
· Cutting hair
· How to trim and shape facial hair
· How to shampoo and condition hair and scalp
· Colouring hair
· Cutting basic patterns in hair
Those completing Intermediate Apprenticeships in hairdressing could move onto Advanced Apprenticeships. These advanced apprentices can take their learning a step further by developing their cutting and colouring skills so they can carry out all the latest fashion techniques. They could even end up determining the fashion looks of the future.
As with all apprenticeships, hairdressing Intermediate Apprenticeships will involve a combination of paid work and assessed training, with a training provider such as a further education college, all while being paid a proper wage.
More articles like this