School Leaver Awards 2018: Spotlight on Kennedys
Becky Kells
Last updated 21 Aug 2018
In recent years, apprenticeships have taken the legal sector by storm, with firms large and small welcoming apprentices into their ranks. Chloe Howard has been at the forefront of this change, as she is currently an apprentice at Kennedys – the winner of our top employer for school leavers within the law sector.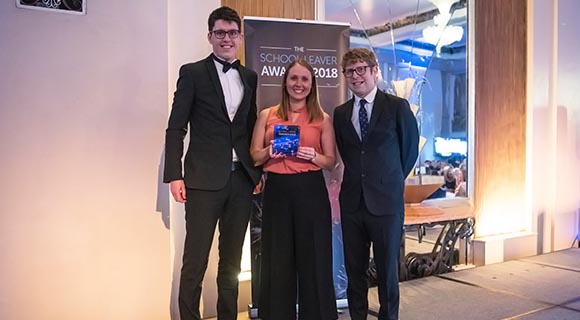 What are your thoughts on Kennedys winning?
Kennedys were one of the first to step out of the constraints of traditional education by welcoming apprentices with open arms. The firm offers the golden ticket to young individuals from a vast spectrum of backgrounds and education. For young people who have worked hard at their A-levels and are keen to kick-start their career, this opportunity at Kennedys is invaluable.
What marks out Kennedys is its support network and apprentice community for school leavers – the transition from an academic environment to a workplace is an enjoyable experience.
What do you enjoy most about your current role?
My work is varied: I may help lawyers draft documents, organise conferences and gather evidence. What I most enjoy about my role is seeing this work come to life. Over my two years at Kennedys, I have attended numerous conferences, client events, court hearings and trials. I have seen my research presented to clients, the evidence I've gathered used at conferences or hearings, and the documents I've drafted issued at court. I have met countless legal and medical professionals and built relationships with them.
What's been your most memorable experience?
Attending a particular client event, where one of the partners on my team was asked to present to the client in relation to the most common claims and how to avoid litigation. I was involved from the start and assisted with conducting the research for the presentation. I then attended with the partner and conversed with the clients thereafter. As an apprentice, to represent my firm in that way, I felt a valued and trusted member of the team.
What's been the most challenging thing about your current role?
It was the transition from an academic environment to a professional one. Initially, it was daunting working alongside experienced and well-respected lawyers – I was hesitant to seek help, and it took time to recognise when I need the guidance of others. Fortunately, Kennedys is always willing to help and provide guidance when needed.
My work is varied: I may help lawyers draft documents, organise conferences and gather evidence. What I most enjoy about my role is seeing this work come to life.
What advice would you give other law apprentices?
Ask questions! A legal apprentice must remember that they are constantly learning, as are all lawyers are; it's part of the job. Being unsure about something is not a bad thing – it means you are taking on something that's more challenging. There is pride to take from that.
Tell us something interesting about yourself?
I used to produce short films. I ended up producing my sixth form's 'introduction' video, enticing students to apply there, which is still being used. I have completed the bronze Duke of Edinburgh Award and hope to complete the gold award in the near future. I have volunteered with my local library for several weeks, partly because of my love for reading, but also as they desperately need help.
Also, I hope to combine my interest in healthcare and volunteering to apply for a volunteering position at Great Ormond Street Hospital this coming September.
Outside of your apprenticeship, what are your main interests or hobbies?
My main interest is music. I play guitar in my spare time and attend many festivals and gigs with my friends. My hobbies include swimming and playing squash.
What skills do you think you have gained from being within an international law firm from such an early point in your career?
Going straight from sixth form to an international law firm has allowed me to develop not only professionally, but as a person. I am able to accept change and deal with pressures that I never would have been able to do. I now have two years' experience within an international law firm at the age of 20. By the time I qualify as a Solicitor, I will have had seven years' experience working within a legal environment specialising in a certain area of law. This puts me at a great advantage.
Would you like to become a law apprentice? Take a closer look at Kennedys by visiting the firm's profile and website.
News