University? An Apprenticeship? How a virtual careers fair can help you decide…
What University? & What Career? Live
Last updated 24 Feb 2021
With so many options to choose from when you leave school or college, it can be difficult to know where to start. Add to that the widespread disruption caused by the Covid-19 pandemic and finding up-to-date information about your higher education and apprenticeship options can feel like a real challenge.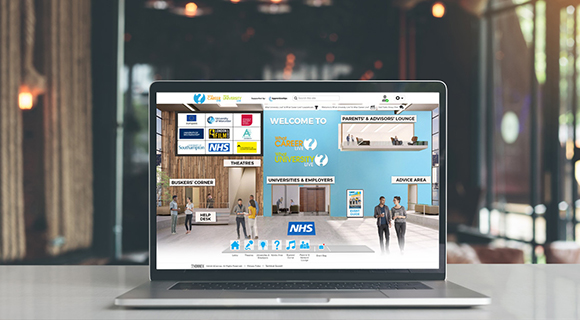 The What University? & What Career? Live Virtual Event on 19 & 20 March is here to help. There's plenty of reasons why you should register for free and log in on the day - here are the top 5!
1. Chat to reps from the UK's leading universities and employers
Representatives from over 50 organisations including J.P. Morgan, University of Birmingham, NHS, Plymouth College of Art, Brunel University London and more will be online throughout the live event hours to give you immediate answers to your questions.
Use the opportunity to speak to recruiters about what they look for in a successful apprenticeship application, or get an insight into what student life is really like at a particular institution. Yes, you may be able to find out a lot from a university or company website, but nothing beats speaking to a real person.
2. Be inspired by a packed programme of free talks
Choose from a packed programme of over 50 live and on-demand presentations. Whether you're looking for specific advice on the university application process and finance options, or just want to learn more about what a modern apprenticeship entails, you'll find a talk to suit you.
Plus, with all sessions available to watch on-demand for a week after the live event has finished, you'll have plenty of time to catch up on anything you miss on the day.
3. Quiz a panel of current students and apprentices
Hear from those that have 'been there, done that' during exclusive Q&A sessions with current undergraduate students and apprentices. Get an insight into their personal experiences, benefit from insider tips and find out what they wish they had known before they applied…
4. Get expert, one-to-one advice
Taking those first steps towards your future career can feel like a daunting prospect. If you are unsure what career path is right for you or need some guidance about the job-hunting process, drop into the Careers Advice Lounge to get free advice and useful tips.
CV experts from The Write Stuff will also be on hand to offer you advice on making your application stand out on paper, while university application consultants William Clarence can offer practical tips on personal statements and more!
5. Discover options you didn't even know existed!
Whether you've already got a pretty good idea of what you want to do, or not a clue – you may be surprised by the range of options out there. The event is the perfect opportunity to discover jobs, courses, universities and even industries you have never even heard of.
You might find an option you hadn't previously considered that sparks your interest and takes you in a completely new direction. Or, you may walk away certain that you're already on the right path. Either way, the event will help you make informed decisions about your next steps.
I'm in! How do I get involved?
For the full run down of what's going on at the event, and to book your free ticket to the What University? & What Career? Live Virtual Event on 19 & 20 March, head to the event website.
See you there!
News