Be a real-life James Bond with these apprenticeships
Emma Finamore
Last updated 21 Jan 2019
Want your career shaken, not stirred?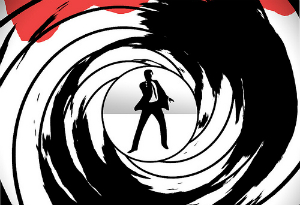 Seen Spectre yet? The latest instalment in the James Bond saga is set to be the most action-filled stunt-fest yet, but why settle for the silver screen when you could be part of the real-life action yourself, protecting the nation with these apprenticeships?
Technical apprenticeship – MI5 and MI6
Trainees learn how to tackle cyber threats, terrorism, counter espionage and organised crime. During this Higher Apprenticeship programme they work with MI5, MI6 (the Secret Intelligence Service) and GCHQ (Government Communications Headquarters).
After successful completion of the apprenticeship, trainees gain a Foundation Degree in Communications Systems, Security and Computing and a Level 4 Diploma in IT Professional Competence. If you're looking for the next step on from a Higher Apprenticeship, why not take a look at a Degree Apprenticeship?
Find out more here.
Aeronautical Engineering – British Army
Fancy working with an Apache attack helicopter? Of course you do. Look no further than this (literally) high-flying apprenticeship scheme.
Basic training teaches soldiering skills like outdoor survival and firing weapons. Extra courses then develop maths and science skills, and specialist training turns apprentices into Avionics Technicians.
Trainees take care of electronic parts on all the Army's aircraft, from the Apache attack helicopter to hi-tech spy planes. They service the Army's aircraft, repairing flight controls and instruments, optical electronics and guided missile launchers.
The Level 3 Advanced Apprenticeship is also recognised in the public engineering sector, so trainees could go into aeronautical jobs working on civilian aircraft later on in their careers if that's the route they want to take. Take a look at our armed forces section on our website to gain an even better understanding.
Find out more here.
Cyber Security apprenticeship – Civil Service
This scheme often leads to job roles within the Ministry of Defence: move over, James Bond! Also the UK has a serious shortage of cyber security professionals, so this skill set is in great demand.
Trainees on this Level 4 Higher Apprenticeship develop the fundamental skills required for Cyber Security including incident response, risk management and digital forensics.
The internet and new digital technology is revolutionising our society, but also makes us more vulnerable to enemies who want to steal, compromise or destroy critical data: trainees completing this apprenticeship will help in the battle against such enemies. Cyber security stretches much further than helping the civil service, nearly all companies need it nowadays, read more on cyber security apprenticeships here.
Find out more here.
Explosives apprenticeship – British Army
Who could forget the infamous exploding Parker Pen from 1995's classic Bond, Goldeneye?
Well, an ammunitions expert would have been the brains behind that stroke of genius, and this Level 2 apprenticeship will start trainees off on the right track to follow that career.
This apprenticeship provides the framework for ammunition management for learners in the earlier stages of their careers in this highly specialised field; including the storage, quality maintenance and inspection of explosives, safe handling, transport, movement and hand over to others.
Trainees can pursue a career as an Ammunition Technician in the Army. Those leaving the Army after the apprenticeship can go to work on film crews handling the explosives and the pyrotechnics, or to the manufacturer which make the ammunition, Not too shabby, eh?
Find out more here.
News