Kickstart your Career with Camden Apprenticeships!
Are you young, ambitious, under 24 and from Camden? University isn't for you but you still want a rewarding, well-paid job and a qualification? If so, Camden Council wants to hear from you.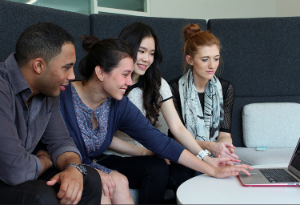 Camden Council has an entire team dedicated to people like you. All you have to do is be 16-24, living in Camden or a former Camden secondary school leaver to apply.
Camden Apprenticeships
Camden Apprenticeships aim to offer 250 apprenticeships a year with a wide range of local companies in a variety of sectors, from Business Administration and Construction, to Healthcare and Digital Marketing. From small start-ups to household names, Camden has worked with some top organisations including Warner Bros and the NHS, as well as offering roles within the council itself.
Its schemes allow talented individuals the perfect opportunity to wedge a foot in the door of some of the greatest companies out there, stealing opportunities that would be far harder to find in other circumstances.
So, if you see yourself as a TV producer, healthcare worker, architect or hotel manager, get onto the site and apply now!
With schemes now available in over 170 industries from aerospace to fashion and finance, apprenticeships are no longer inferior to degrees. After GCSEs, students can learn up to degree level with national advanced and higher apprenticeship qualifications, and earn a salary at the same time.
The Stats
From 2013-14 the government invested a staggering £1.5 billion in apprenticeships, in a pledge to place university degrees and apprenticeships on an equal footing. This year alone, 23,000 apprentice vacancies have been introduced and as a result over 850,000 people started apprenticeships between 2013-2014.
This push has been beneficial to both apprentices and businesses alike: last year a national poll showed that 70% of companies said apprentices improved their productivity, and 90% of apprentices stayed in employment after finishing their schemes.
So if you are aged 16-24, a Camden school leaver or resident, cast your eye over the Camden Apprenticeship Page for current vacancies. To give you a taste of the opportunities out there here are some past examples of apprenticeships offered by the council.
1. Cultural and Heritage Apprentice
Company: Kenwood House, Hampstead, 18th century historic house now used for events and open to the public.
Contract: 12 months, £186.11 per week and 37 hours each week.
2. Apprentice Chef
Company: The Soho House Group. As an apprentice chef at an international collection of exclusive private member's clubs and restaurants, you will shadow top chefs at the Mayfair branch and work towards a Level 2 NVQ Diploma in Hospitality and Catering.
Contract: 12- 15 months £140 a week - £220 after 8 months.
40 hour weeks. All expenses paid, a uniform and a set of knives of your own.
3. Creative Apprentice
Company: Viacom is home to the world's premier entertainment brands that connect with audiences across TV, motion picture, and online platforms in over 160 countries. They work with the likes of MTV, Paramount, Nickelodean and Comedy Central.
Contract: 12 months, £14,500 per annum, 37.5 hours per week.
4. HR Admin Apprentice
Company: One of the largest centres in the UK, The Central and North West London NHS Foundation trust cares for people with a wide range of physical and mental health needs and provides healthcare to a third of London.
Contract: 12 months, £150 per week, Business Administration Level 2.
5. Educational Needs Support Officer
Company: Camden council offers many apprenticeship vacancies in an array of different departments with many roles available in business admin. The Council offers both higher level and advanced level apprenticeships.
Contract: 18 months £234 per week £259 after 6 months.
6. Construction Apprentice
Company: Rydon specialises in general contracting, refurbishment, regeneration, property maintenance and residential and commercial property development. It aims to draw talent from the local community into the construction industry in order to support local regeneration and the skills development of young people.
Contract: 2/3 years studying for a level 2 or 3 NVQ in construction.
For information on past apprenticeship case studies at Rydon click here.
Need some more help?
If you need support with an application, guidance on which apprenticeship to choose, or tips on interview technique just contact the Camden Apprenticeships team.
The team can even put you in touch with a mentor. Call 020 7974 2689 (Michael) or 020 7974 8548 (Christine), or email Camden Apprenticeships apprenticeships@camden.gov.uk. They'll do the rest.
News