University of Surrey is named University of the Year
Emma Finamore
Last updated 22 Sep 2015
The university's student-centred focus and massive investment programme is clearly a winning formula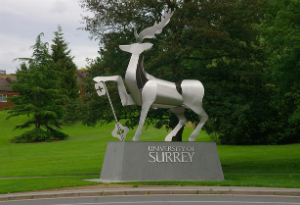 The University of Surrey has been named University of the Year in the infamous Sunday Times annual listing, even though Cambridge and Oxford topped the table in terms of points.
Alistair Mccall said in the Sunday Times: "The rise of the University of Surrey from a solid middle-ranking institution to a high-flying top 10 academic powerhouse capable of fighting the Russell Group for the best students has been a remarkable transformation.
"Now ranking in our elite top 10 for the first time, Surrey is our University of the Year for 2015-16, having been runner-up two years ago at a time when its ascent of our league table first began to catch the eye."
The newspaper said Surrey had been awarded the accolade because it "listens to students and targets investment".
The vice-chancellor Professor Sir Christopher Snowden has been working towards creating a student-centred university since taking charge in 2005. He has instigated some of the following investments:
- A new Virtual Learning Network, designed with KPMG

- A new library and learning centre, at a cost of £16m

- £130m spent on student accommodation
- £36m spent on the Surrey Sports Park with an Olympic-size swimming pool
Snowden told the Sunday Times he believes a renaissance in campus universities is under way: "They are more attractive today. City universities say they don't have to provide all the facilities because they don't need to. We have to, and we have our own sports centre, cinema and student accommodation because of where we are."
News