Theresa May expands Department for Education to include apprenticeships
Becky Kells
Last updated 28 Jul 2016
Britain's new prime minister Theresa May looks set to prioritise apprenticeships and school leaver schemes, although it is unclear whether the apprenticeship levy proposed by David Cameron's government will continue on the same track.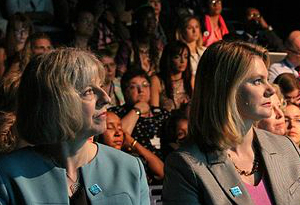 In her speech at Downing Street on 11 July, May addressed big businesses as an issue she wished to reform, calling the "growing gap" between worker pay and boss pay "irrational" and "unhealthy".
Speaking also in Birmingham, May focused on inclusivity beneath a "strong and proven" leadership, but also a "different kind of Conservative" that "marks a break with the past".
She said: "Under my leadership, the Conservative party will put itself – completely, absolutely, unequivocally – at the service of working people."
The apprenticeship policy introduced by Cameron's government is now in law. Preparation for the introduction of the scheme is well under way and it is due to be introduced in April 2017, but It is difficult to predict at this early stage how May will handle the continuation of this. Abandoning the policy would mean a massive U-turn and would lead to numerous hurdles.
In her new cabinet, May appointed Justine Greening as Education Secretary, who visited Walsall College on the 21 July in her first official visit in the position.
She praised the college, saying: "It was tremendous to see first-hand the fantastic work Walsall College is doing to bridge the gap between education and industry and get more young people on to the career ladder."
May has also expanded the responsibility of the Department for Education, and It will now be responsible for apprenticeships, skills, further education and universities, creating a more end-to-end view of skills and education.
Robert Halfon has been named the new Apprenticeships and Skills minister. Halfon has previously been a strong advocate of apprenticeships, supporting his local college and becoming the first MP to employ an apprentice.
Mark Dawe, chief executive of the Association of Employment and Learning Providers, commented: "We're delighted that with his credentials for championing apprenticeships Robert Halfon has been given the skills brief."
Dawe also called on Halfon to "stick to the current levy timetable" in order to maintain the momentum, warning that "any dip is likely to damage the chances of building up apprenticeship numbers".
Read More
"Under my leadership, the Conservative party will put itself – completely, absolutely, unequivocally – at the service of working people."
- Theresa May
News