Apprenticeship Cover Letter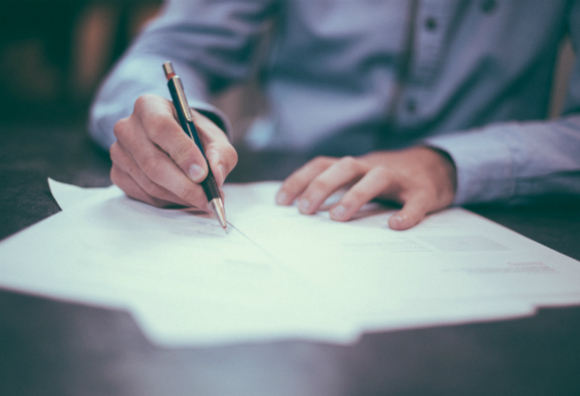 What is an apprenticeship cover letter?
A cover letter is a basic outline of who you are and why you are sending your CV to a company. So your apprenticeship cover letter isn't a throwaway document; it's the introduction to your CV, flaunting your relevant qualities and hammering home why you'd be an excellent asset to the company.
In the olden days, paper covering letters literally covered your CV when they were placed on top. Nowadays, most people send cover letters in an email format with their CV attached.
Companies might ask candidates to send a cover letter and CV as part of an application, or you might send a cover letter when speculatively applying for an apprenticeship.
What should I put in my apprenticeship cover letter?
You should mention your lifelong devotion to Burnley FC, how you like to organise your wardrobe and why celebs posting makeup-free pics of themselves on Twitter is like totes amaze. Really? No.
An apprenticeship cover letter is a professional, formal letter and its content should reflect that. You want it to showcase your qualities and skills which are relevant to the apprenticeship.
So before you do anything, make sure you've researched the company (their website is a good place to start) and the apprenticeship.
Read More:
Before you start your research, there are some questions to bear in mind. What's different about the company? What are their values? Who are their customers? What does the apprenticeship involve? What do they look for in apprentices? You should also think about what attracts you to the company and the apprenticeship.
Companies don't have a whole lot of time, so keep your cover letter relatively short. Around three to four paragraphs should do the trick.
You can create a general cover letter template, but you should tailor it for every apprenticeship application. Whoever is reading it should get the sense that you're passionate about their apprenticeship in particular, not that you're just desperate for anything going.
How to structure your apprenticeship cover letter.
Even though you'll most likely be emailing your cover letter, it's important to abide by some letter writing rules. Try and address your covering letter to a named person (e.g. "Dear Clare Smith").
To do this, you'll need to call up the company and ask who is in charge of hiring apprentices. If you can't find out, then you might just have to settle for "Dear Sir/Madam" or similar.
Clearly divide your cover letter into paragraphs and end it "Yours sincerely" if it's being sent to a named person. If you haven't managed to find out a name then use: "Yours faithfully" followed by your name.
So what about the content of your letter?
First Paragraph: open the letter with an explaination of why you are writing. Identify the apprenticeship you're interested in and include a unique reason why you think you'd be an asset to the company.
Try to show enthusiasm and genuine interest in the apprenticeship and the company.
Second Paragraph: this paragraph might outline why you're interested in the company, the apprenticeship and the industry. Try to come up with genuine and different reasons, not "I want to work for you because you're the best".
Third Paragraph: Here is where you link it back to you. You might want to pick out the skills and qualities you have that would make you a great apprentice.
Use the apprenticeship job description as a jumping off point, as, more often than not, it'll include a list of the qualities or competencies they are looking for.
Back up your assertions with evidence. For example, if they are looking for an organised person who is good with numbers for a business apprenticeship, then make sure you show them how you have developed those skills. It could be through organising your exam revision at school, or managing your personal income from a part time job.
You can tie up your letter by addressing any formalities, such as saying when you're available for interview, or covering any practical issues they might ask about. And hey presto! You have a tip top apprenticeship cover letter.
Other tips…
Try and keep your cover letter relatively short: it should be no longer than one side of A4, and preferably shorter. Apprenticeship employers don't want to have to spend too long reading your cover letter, and a lot of the details you'll be tempted to include can be addressed in your CV.
Read it through aloud to make sure it makes sense and get someone else to check over your cover letter and give feedback. You might need to do several drafts.
At the risk of sounding like a nagging grandma, scour every inch of your apprenticeship cover letter for grammatical errors, typos and spelling mistakes. You'll thank us later.
Try and avoid formulaic sentences and clichés. An apprenticeship cover letter is also a chance to show off your writing, so sending in something that looks like it was written by a robot probably won't impress. If you feel like you're slipping into a monotone, varying your sentence length will work a treat.
Steer clear of Times New Roman and embrace contemporary fonts like Verdana or Helvetica. These fonts are designed to be read on the screen so are particularly useful if you are emailing your cover letter.
More articles like this