Excelling on an Advanced Apprenticeship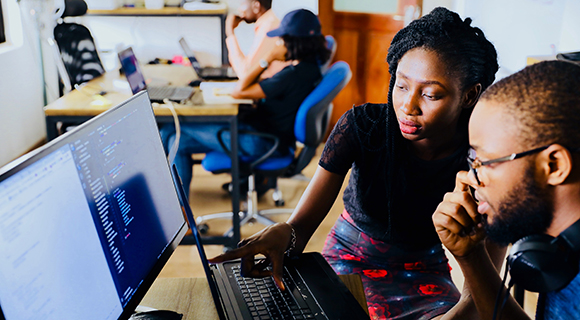 Advanced Apprenticeships are an entry point to the workplace are doing one is the equivalent of doing A-levels. They are the type of apprenticeship with the most opportunities, so getting an Advanced Apprenticeship is easier (in theory) than getting a Higher or Degree Apprenticeship, for example.
You'll receive a lot of support from your employer on your Advanced Apprenticeship, but here are some top tips on how to excel.
Understand how work differs from school
When you start your Advanced Apprenticeship, it is likely to be your first experience of full-time work and it will be very different to your experience of school.
First and foremost, you will be working 9am to 5pm, as opposed to studying 9am to 3pm. You will need to manage your own time and tasks, and make sure you are on course to hit your targets. You may also have to attend meetings throughout the day and juggle different priorities.
Ultimately, nothing will prepare you for the world of work more than actually being there, but it's good to know what to expect.
Be organised
Every apprenticeship is made up of 80% working full-time and 20% undertaking off-the-job training. Training is structured in a variety of ways. You could spend two entire months at your training provider or college (this is called block release) or you could spend one day per week training, and the rest of the week at work (this is called day release). Therefore, you may have coursework deadlines to meet whilst also having a full-time job.
One practical idea is to block out time in your diary or calendar to make sure you get coursework done. If you know that you're out playing sports every Wednesday evening, make sure you make up this time on Sunday afternoon, for example. Getting into a routine will allow you to focus on certain things at certain times and provide you with a good work-life balance.
Be enthusiastic
Undoubtedly your employers are impressed with you already, they hired you after all! However, you should carry your enthusiasm into your work and training. You'll come into contact with a lot of people, all of whom you will have something to learn from.
Gone are the days where you have to sit through double science on a Friday afternoon or struggle through history on Wednesday mornings! Now, you get to work in a field and job role that you have chosen and interests you massively. What's there not to be enthusiastic about?!
You should also think about how you can go above and beyond for your employer. Perhaps you can help advertise the company's apprenticeships to people a few years younger than you at careers fairs.
Think about your future
Your Advanced Apprenticeship is the starting point of a long career so it's always good to keep fresh in your mind an idea about the future. Think about the opportunities your employer can offer and how it aligns with your own career goals.
It's a two-way street with apprenticeship employers. You are there to offer your skills and knowledge, and they are there to help you develop professionally and realise where you can best excel.
Apply for an Advanced Apprenticeship
Now that you know what to do when you get there, it's time to apply for an Advanced Apprenticeship. Check out the latest opportunities here.
More articles like this