Graphic design apprenticeships: Advanced Apprenticeship
Emma Finamore
Last updated 24 Oct 2016
Explore the opportunities offered by graphic design apprenticeships, for those wanting to train at Advanced Apprenticeship level.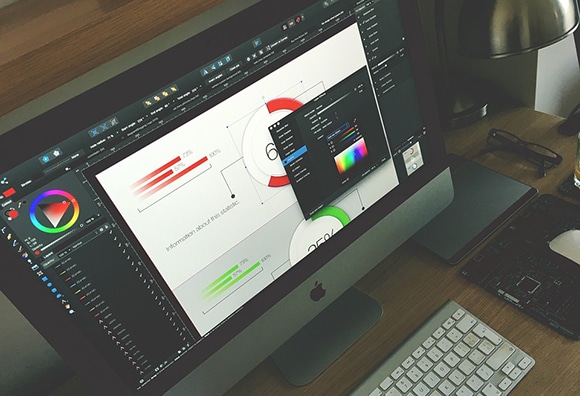 There are many graphic design apprenticeship opportunities at Advanced Apprenticeship level, Advanced Apprenticeships in graphic design are available as part of the government's arts, media and publishing apprenticeships framework.
Graphic design Advanced Apprenticeships: specialisms
The nature of your Advanced Apprenticeship will depend on your employer but you could work in one of four major areas:
· Graphic and multimedia design in the media industry
· Interior design
· Fashion and textile design in the clothing and fabric manufacturing industries
· Product design in the manufacturing industries, from packaging to furniture design
Advanced Apprentices will assist a designer or design team and build specialist skills. This apprenticeship focuses on the more artistic design roles and doesn't include job roles in engineering or technical design.
Those on graphic design Advanced Apprenticeships could train in roles like technical illustrator and junior graphic designer.
Graphic design Advanced Apprenticeships: career progression
After completing a graphic design apprenticeship at Advanced level, you could move onto Higher Apprenticeships in related roles, such as creative and digital media, or interactive design and development.
Higher Apprenticeships in interactive design and development include jobs like: conducting user testing, monitoring and managing data and usage of interactive products, junior interactive product designer, designing interactive product content and the assets needed for these, including art design. Graphic design Higher Apprentices could be developing user interfaces and interactive products, using code, software, advanced programming languages, scripts and testing systems.
An Advanced Apprenticeship in graphic design might even be enough to get you into university, if you wanted to do a degree in graphic design or a graphic design-related subject, such as: animation, computer game design, applied graphic studies, applied graphic technology, visual communication, graphic communication, graphic art, multimedia graphics, or packaging design.
Graphic design Advanced Apprenticeships: training
As with all apprenticeships, graphic design Advanced Apprenticeships will involve a combination of paid work and assessed training, with a training provider such as a further education college, all while being paid a proper wage.
More articles like this