5 reasons culinary school might be the perfect alternative to university
Article provided by Leiths culinary school
15 Aug 2019
It's the time of the year when everyone is considering their options. One that might not have occurred to you is culinary school. The people at Leiths cookery school are here to explain why it might be the best (and most delicious) decision you ever make.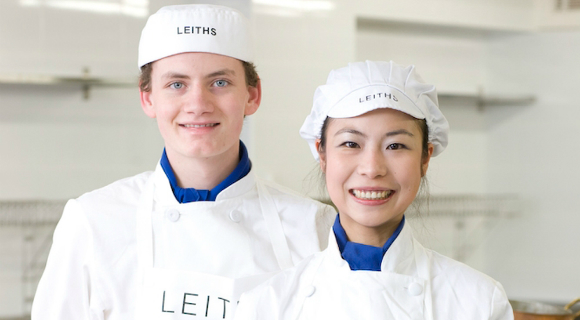 1. You love food!
Do you consider yourself a foodie, but didn't see your passion fitting into your idea of a career? Studying at Leiths will not only elevate your cooking skills to an expert standard, but your love of food will intensify. Plus, you'll be living in the foodie capital of the UK, meaning you'll have the world of food markets and restaurants at your feet—from tasting artisan cheeses at Borough Market, to visits to Billingsgate Market and pilgrimages to Rosa's Thai in Brixton.
But never let it be said that Leiths is London-centric; from Nathan Outlaw's restaurant in Cornwall to Chris Rowley's Ballintaggart Farm in Scotland, Leiths graduates are connected to opportunities across the country—and the world!
Check out Leiths Instagram page for foodie updates and behind-the-scenes snaps.
2. A quick and fast-paced course
Does the thought of a three-year degree sound a bit wearing? Prefer the sound of a shorter, fast-paced course that will take you from home cook to professional chef in just nine months? If so, then Leiths might be the place for you.
To read the inspiring personal stories of our graduates, don't miss our Made At Leiths blog series.
3. A hands-on way of learning
Fancy swapping the textbooks for soufflés? A typical day at culinary school involves practical demonstrations and hands-on cooking sessions, meaning no dry lectures to fall asleep in. Classes are led by industry experts, making it the ideal environment to learn everything from knife skills to French patisserie.
Follow Leiths on Twitter for course info and Q+A sessions about training as a chef with our team!
4. An exciting place to network
Culinary school offers a great way into the industry and a chance to catch lectures from some of the capital's best cooks, whether you're meeting Tom Kerridge or attending guest chef classes by Yotam Ottolenghi. Our teachers have worked in Michelin-starred restaurants, become food stylists and recipe testers for magazines, run their own event-catering companies and even cooked for royalty.
Like Leiths on Facebook for school news and important updates:
5. You can see yourself working in the food and drink industry
A chef career is not the only option—you could go on to write cookbooks, present a cookery show, develop recipes for supermarkets, travel as a private chef or even style food for national adverts!
If you're serious about cooking and what to chat more, pop in and see us! To book a one-to-one with one of our friendly teachers, call 0208 749 6400
"When I hear they've been trained at Leiths, I want them." - Rick Stein
Which course is best for you after A-levels?
A whirlwind month of cookery...
If you're looking for a way to earn money as you travel the world on a gap year, you'll learn all the skills you need for a lifetime of confident cooking on our Essential Certificate.
We still have a few spaces left on our next course, which runs from August 19 to September 13 2019. You can book your place online; there is no need to come in for an interview.
...or join us for longer
Our popular Foundation Certificate, which runs from 23rd September 2019 to 6th December 2019, is a fantastic way to become a well-organised, confident cook. You'll learn an essential toolbox of culinary skills, from roasting a pheasant to making the perfect Lamb tagine from scratch.
Lots of young people take the Foundation Certificate as part of a gap year as it gives you a really universal, marketable skill that will allow you to earn a good wage as you travel the world. It's also a great option for anyone interested in working as a cook or host in ski chalets or on yachts—and jobs agency Leiths List can even link you up with these opportunities.
To secure a place on this course, you will need to attend Leiths for an informal interview.
Over the years, Leiths has trained over 4,000 creative, individual, passionate food professionals. We've seen them progress from their first, nail-biting day on the Diploma to confidently presenting television shows and managing restaurant chains. "There's just a good feeling about this school; it's friendly and welcoming and there's such a supportive atmosphere", said Nick, a diploma student.
News