Top 5 school leaver tips for a career in fashion
Emma Finamore
31 Jul 2015
Know your cravat from your lapel? Maybe you should try a career in fashion, sweetie.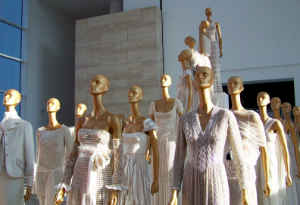 Martin Roberts, Head of Menswear Buying at Jacamo gave us his top tips for school leavers wanting to go into fashion.
1. Make yourself stand out
It's a competitive industry, so you need to show employers that you are the best candidate. Relevant experience is essential; an internship shadowing a fashion professional will dramatically boost your CV. A retail summer job will also give you a great insight into some of the fashion basics, such as trends, customer service and sales. If you're struggling to find these sorts of opportunities, then make your own. Start a blog critiquing fashion adverts or analyse a brands use of social media.
Fashion is a multibillion-pound industry with tonnes of careers available beyond the obvious fashion design, so seek out opportunities that will also develop transferrable skills. Could you volunteer as a charity fundraiser to demonstrate your leadership skills? Or enhance your communication skills by assisting at a summer school?
2. Get to know the industry
Follow brands on Twitter, read fashion blogs about the latest trends and check out retailers' YouTube channels. And don't forget LinkedIn; despite the frills and thrills, fashion is still a business.
You'll find most brands and retailers on LinkedIn, so use this platform to gain an insight into the corporate side of things. LinkedIn is also great for looking at how professionals got to where they are now – did they take a particular course or gain experience in a certain field?
All this research will not only help define your personal career goals, but it will also keep you in the loop on fashion news and give you some great discussion points for your interview.
3. Get your CV and cover letter
Employers receive hundreds of applications for job openings so your CV and cover letter need to stand out – this is where your volunteering/part-time work/ sports leadership etc. comes in handy.
Back up every point with solid examples. Don't tell me you have a "passion for fashion". Tell me you've "developed a passion for fashion through blogging about the latest trends". Instead of "I have good communication skills", tell me you've "enhanced your communication skills through your customer service experience". But be concise!
4. Prepare properly for interviews
When you're at the interview stage, researching the company is crucial. But don't just read their website. Check out their social channels, read articles about company news and see what people are saying about their products on reviews sites. Write down three interesting things that you like about the company, and then refer to these in your interview.
Remember that you are interviewing your potential employer just as much as they are interviewing you, so ask questions to gain a feel for what the company is like, and whether they're a good fit for you.
5. Persevere
Don't give up! The fashion industry can be tough, but that's what makes it exciting. If you're unsuccessful after an interview, ask why. Any constructive feedback your interviewers can give you will help to improve your chances next time.
And don't be afraid to ring employers to ask about the progress of your application – this shows initiative and enthusiasm for the role.
Work hard, be persistent and most of all enthusiastic.
News