Ada Lovelace Day: 5 women who've changed the face of tech
Emma Finamore
Last updated 13 Oct 2015
Ada Lovelace was punching her way through that glass ceiling before the phrase even existed.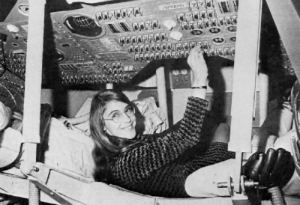 Today – 15 October 2015 – is Ada Lovelace Day, an international celebration of the achievements of women in science, technology, engineering and maths (STEM), hoping to inspire to all you female school leavers out there to follow the careers you really want.
The day is named after computer genius Ada Lovelace, so we'll kick off our list with the woman of the moment herself.
Ada Lovelace
Born in 1815 to famously scandalous Romantic poet Lord Byron and Isabella Noel, Ada was perhaps destined to have a dramatic life. She was the world's first ever computer programmer, creating what is recognised as the first algorithm to be carried out by a machine, and working with Charles Babbage on the very first general purpose computer. She died before her theoretical work could be tested, but her writing was incredibly important when it came to developing what we today would recognise as early computers.
The computer language Ada, created on behalf of the United States Department of Defence in 1980, was named after Ada Lovelace, and the reference manual for the language (MIL-STD-1815) was given the number of the year of her birth. Since 1998 the British Computer Society has awarded a medal in her name, and in 2008 initiated an annual competition for women students of computer science.
Joanna Shields
Joanna Shields – or to give her proper title, Baroness Shields – is the UK's Minister for Internet Safety and Security. Before this she was David Cameron's Digital Advisor and the CEO and Chair of Tech City UK, where she led the UK's digital economy strategy. During this time she led a number of successful initiatives, including the Future 50, Tech Nation, the Digital Business Academy and more.
In 2014, Joanna launched WeProtect, a global initiative bringing together government, law enforcement, industry and NGOs from 48 countries to create breakthrough solutions for protecting children around the world from sexual abuse and exploitation.
During her time in the private sector, Joanna held a number of prominent roles including MD of Google in Europe, Head of Facebook in Europe, and CEO of Bebo following its acquisition by AOL.
Sue Black
Sue Black is a computer scientist and campaigner to save Bletchley Park, the central site of the Government Code and Cypher School, which regularly penetrated secret German communications back in the dark days of World War II. She is about to publish a book (crowdfunded on Unbound), which lets readers in on all the details about saving this important site.
Sue is also an academic at UCL, and starred in inspirational BBC series, Girls Can Code.
Sheryl Sandberg
Author of "Lean-In" – a self-help book for women in business and the boardroom – and COO of a website most of us use every day – Facebook – Sheryl Sandberg is one of the wealthiest women in Silicon Valley.
A graduate of Harvard, she was the first woman to join Facebook's board. Much of the platform's success can be attributed to her intimate understanding of enterprise. It was Sheryl who helped Facebook go public on the stock market, and greatly expanded its digital cash flow.
Marissa Mayer
In 1999, Google wasn't yet the internet search giant we all know and love (kind of). The company had just 19 employees, until Marissa Mayer became the company's 20th employee and – more importantly – its first female engineer.
Marissa led product management for a variety of search products, such as Google Earth, Google Maps, Local Search, Street View and Gmail., and in 2012 was appointed President and CEO of Yahoo!. She is also a member of the company's board of directors and led the company to acquire Tumblr in a 1.1 billion dollar acquisition.
News