The weirdest Christmas holiday jobs
Emma Finamore
Last updated 11 Dec 2015
'tis the season to get part-time work, after all.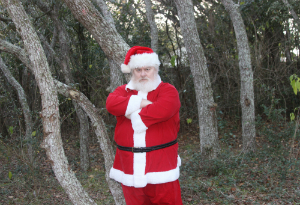 If you hadn't noticed, Christmas is coming. For many school and university students this means a month off studies and the chance to make a few extra quid. Here are some of the more unusual festive jobs we've seen over the years.
Christmas tree lights untangler
To qualify for this job applicants must be able to untangle a set of Christmas lights in under three minutes. A typical day could involve untangling up to a whopping 60 sets of lights.
The "skills" required include "a passion for Christmas" and "persistence and patience", and duties include manning the "Christmas lights untangling stand" and checking lights/bulbs for signs of breakage.
Successful applicants will be expected to handle Christmas lights carefully "to keep everything in tip-top condition" and demonstrate a passion and knowledge for the service they're providing.
Human bullet impact tester
Not for the faint-hearted, the successful applicant to this role will be fired at with paintball bullets to check their safety.
The unusual role has been created to help with health and safety checks around the busy Christmas and New Year period. Testers will be required to stand on the spot whilst paint balls are fired at them, without any protective gear.
They may also occasionally be required to be shot at with paintballs whilst in motion, such as when walking, running or jumping.
The job description states that while the paintball shots will be carried out and monitored by trained professionals, testers may experience a small risk of pain, discomfort and some bruising.
Reindeer handler
What could be more Christmassy than hanging out with Rudolph and co? Jobs like this normally require a full clean driving licence as handlers will help transport the reindeer.
Previous experience handling horses and or livestock is also essential, as well as being comfortable in crowds.
Good people skills are required as you will be answering questions from the public at events.
Christmas elf
No doubt you've seen these lucky folk in your local shopping mall, but have you ever considered applying to become an elf?
The role requires applicants to be outgoing, enthusiastic and motivated, as elves are responsible for welcoming children in to the Santa's grotto and ensuring they have a fun time.
A considerable amount of interaction and improvisation will be required throughout, as well as potentially operating photography system and till systems.
If you're studying childcare you will be at an advantage, but there are no specific education requirements.
Well, what are you waiting for? Get applying people!
News