School Leaver Awards 2018: Spotlight on Bentley Motors
Becky Kells
Last updated 11 Sep 2018
Not only did Bentley Motors win the top employer award for the automotive industry in the School Leaver Awards 2018, it also came away with the top prize of the night. This means that Bentley's school leavers scored their employer highly across the board. We caught up with Charlotte Atkins, a Junior Engineer at Bentley Motors, to find out why she thinks the win is deserved.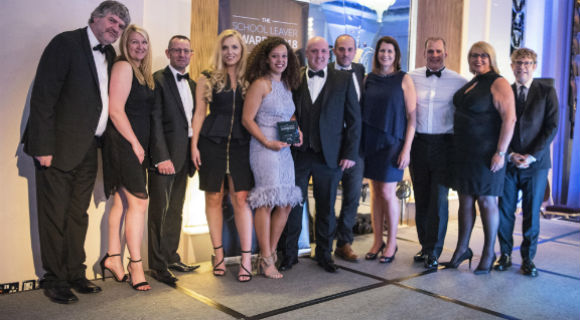 What are your thoughts on Bentley Motors winning?
I'm very happy—I believe this reflects Bentley as an employer and I feel very lucky to be part of the Bentley family. From personal experience of working for the company as part of the apprenticeship scheme, I think Bentley is a very deserving winner, due to the number of brilliant opportunities I have had during my time.
What do you enjoy most about your current role? What's been your most memorable experience?
I enjoy my role within Metrology at Bentley as I have the responsibly of part maturation on new and current models, in terms of measurement and fitment of parts. This means that I have the opportunity to develop my knowledge and learn new skills on a daily basis. I am involved in our process improvement projects and my job requires me to communicate with cross-functional departments at Bentley, to improve the quality of our parts. I am personally satisfied when I have contributed towards the quality improvement of parts and worked cross-functionally to ensure the project is a success.
As an apprentice, I have had the opportunity to undertake placements around the business in various different departments, to see how the company works as a whole. My most memorable experience was working for the Motorshow team as I helped create and organise the Bentley Motorshow stand in Geneva, to show off our luxury vehicles to the world.
What's been the most challenging thing about your current role?
Problem resolution within a short timeframe can be challenging: I often have to understand the dimensions of a part and why that would cause a part to fit incorrectly. Usually, this requires experience with the part and knowledge from cross-functional departments to find the root cause, and resolving the issue often comes as a result of teamwork.
What advice would you give other apprentices in the automotive industry?
I believe being an apprentice is the best way to grow as a person, gaining skills and knowledge through experience and gaining qualifications to a degree level. Be a "knowledge sponge" and take every opportunity as it comes. Always try your best within every task and educational courses to get the best out of the opportunity. Go on as many placements as you can around the business to understand roles within it, as well as the ways in which other departments work.
"I believe being an apprentice is the best way to grow as a person, gaining skills and knowledge through experience and gaining qualifications to a degree level. Be a "knowledge sponge" and take every opportunity as it comes."
Where do you see your career progressing from here? What are your future plans?
In the future, I am going on a placement at Porsche in Stuttgart for three months where I will work within its metrology centre. My aim is to align the approach to cubing within the brand group in terms of structure of department; process; documents; interaction with suppliers; interaction with departments; feedback loops; and quality tools. Once I return to Bentley in Crewe, my plan is to implement my learning into the department. One day I hope to increase my skills to become a project leader within Metrology.
Tell us something interesting about yourself?
I have gained a first-class honours degree in Mechanical Engineering, after studying for 4 years at South Cheshire College and Staffordshire University. I have been nominated as one of the top 100 women in industry by Autocar two years consecutively.
Outside of your apprenticeship, what are your main interests or hobbies?
Outside of my apprenticeship, my main hobbies are the gym, shopping, travelling and spending time with friends and family.
As well as winning the best employer in the automotive industry, Bentley also won the overall award tonight. As an apprentice with Bentley, what do you think makes Bentley the top employer for school leavers in the country for 2018?
Its apprenticeship scheme is second to none. You receive on-the-job experience from your home department, starting all the way from the basics to complex technical knowledge. There are huge opportunities, such as placements around the business, placements abroad with group brand companies—not to mention the qualifications you gain by the end of your apprenticeship, such as HNC, HND, degree and NVQ 4 in a chosen subject. The salary is very competitive and has the choice of the car scheme. I feel very lucky to have an apprenticeship at Bentley Motors and look forward to my future here to progress into my role as a Metrology Analysis Engineer.
Want to work for the top employer of School Leavers for 2018? Find out more about Bentley Motors' apprenticeship programmes here.
News