The apprenticeships that give something back
Emma Finamore
Last updated 01 Dec 2015
Great career opportunities, and helping others. What more could you ask for?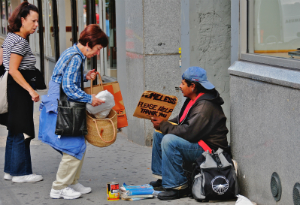 According to recent research, girls are more likely than boys to 'limit' their future earning potential by choosing to pursue careers in 'worthwhile' professions, such as charities or museums.
Here at AllAboutSchoolLeavers.co.uk we don't think you should have to choose between a great career and doing something good for the world, so here are a few apprenticeships that will give you structured training and a career path, as well as that warm fuzzy feeling inside.
Campaigning is about trying to change things, whether that's child protection, the environment or human rights.
Campaigners help to raise awareness of issues by influencing governments, companies or the general public. Campaigners work for charities, pressure groups and other organisations campaigning for change.
Campaigning tactics include organising a public meeting, signing a petition, writing to the press, contacting a local councillor, using social media, or boycotting a product. Some campaigns are very high profile and involve national media and celebrity supporters; others will be smaller and work to make change happen locally.
Charities need funding to pay for staff, premises, equipment, websites etc.
Staff with good fundraising skills make the difference between a charity being able to carry out its work or not. Fundraisers also work in education and health organisations.
In a fundraising role you will build and manage relationships with people and organisations that have the money to support your organisation's work and the people it helps. You will show how the money will benefit the people and causes that your charity supports.
Volunteering is very important in the UK. Over 24 million people volunteer every year to help out in charities, hospitals, schools, prisons etc.
Good volunteer managers ensure that volunteers get the most out of volunteering and that organisations make the best use of their volunteers.
As a volunteer manager you will match the right people to the right opportunities and support them to do that role well. It's a busy job that involves a lot of different tasks from writing job descriptions to finding training opportunities and developing volunteer programmes.
The apprenticeship is open to all, but people below the age of 21 might not have the breadth of experience needed to undertake the Apprenticeship successfully.
This apprenticeship will suit you if you want to work in museums, galleries, heritage and conservation. It's all about preserving the past and helping the public share, and enjoy, Britain's historical sites.
On the intermediate level apprenticeship you could work as a conservation assistant, where you'll be:
- Recording objects and making slides, writing a description/drawing it
- Overseeing cleaning, supporting and repairing/restoring objects
- Hosting tours, assisting talks/ presentations to amateur and professional audiences
- Supporting curators, developers, planners and private businesses
Front of house and administration support staff develop skills in:
- Venue knowledge
- Ticket sales
- Exhibition group bookings
- Setting up and maintaining systems, such as staff records and visitor numbers
On the advanced level apprenticeship you could work as an assistant archivist where you'll be:
- Supporting acquisition of records and documents for preservation
- Assisting with cataloguing and indexing
- Logging requests from the public
- Developing knowledge regarding the use/interpretation of material
- Assisting exhibitions and events
- Researching grant opportunities and assisting with application
Or you could work as an assistant curator, helping others catalogue and promote collections, researching, assisting with storing and cleaning items in a collection, helping organise exhibitions and displays
News