David Beckham and other famous apprentices
Emma Finamore
31 Aug 2015
Still unsure what to do with last month's exam results? These celebrity careers might help you decide to take an apprenticeship as your next step.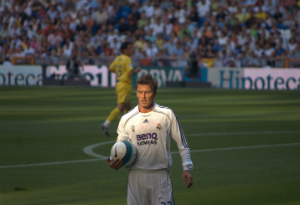 An apprenticeship could lead to fame and fortune, not to mention a debt-free start to your career.
Take a look at the list below for some "apparenti-nspiration" (sorry)…
David Beckham
Baby Becks had trials with his local club Leyton Orient, Norwich City and attended Tottenham Hotspur's school of excellence, but it was his parents' favourite club that he signed with at Manchester United on his 14th birthday, and subsequently signed to its Youth Training Scheme in1991, an on-the-job training course for school leavers aged 16 and 17.
The rest is football history.
Stella McCartney
Ok, so her dad was in one of the biggest bands of all time (The Beatles) but that didn't stop young Stella getting stuck into some hard graft at an early age.
She trained all over the city, but it was at Savile Row, as an apprentice to Edward Sexton, where she learned the craft of fine tailoring – an experience which undoubtedly influenced the sharp, confident pieces she would go on to create, including the iconic kit for Team GB at the London 2012 Olympics.
Jamie Oliver
Growing up in his dad's pub, our pukka pal Jamie knew that he wanted to work in food. He left school at age sixteen with just two GCSEs (Art and Geology) to attend Westminster Catering College.
He then earned a City & Guilds National Vocational Qualification (NVQ) in home economics – achieved through assessment and training – giving him an apprenticeship: an NVQ, plus key skills and other technical certificates specific to the industry. Lovely-jubbly.
Ruth Badger
The brilliantly-named Ruth Badger is best known for being runner up in the second series of The Apprentice, and then going on to become a successful businesswoman. But she was actually a real life apprentice when she left school, taking a business administration apprenticeship when she was 16.
Ruth says it's this that put her on track for a successful career, and now she's launched her business and sales consultancy she plans to take on her own apprentices to give another generation the same chance.
Karen Millen
The famous designer – you'll recognise her name from your local high street or shopping mall - started her career as an apprentice, training at the Medway College of Design in Rochester.
Karen's business was founded in 1981 when she partnered with then-boyfriend Kevin Stanford. With a loan of just £100, they bought 1,000 metres of white cotton and began making and selling white shirts to their friends, this soon turned into a super-successful fashion brand and Karen made millions when it was sold in 2004.
News