The young entrepreneurs & activists on the BBC 100 Women list 2015
Emma Finamore
30 Nov 2015
Here come the girls!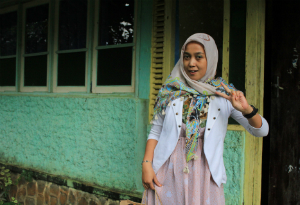 Every year the BBC reveals its list of the most inspirational women: The BBC 100 Women list.
The 2015 line-up features a fierce bunch, and we've picked out the most awesome younger ladies to give you school leavers a bit of a high-five: they prove that you can do anything if you put your mind to it!
Amara Majeed
Age: 18
Job: Activist/author
Nationality: American
Amara wrote The Foreigners in an attempt to eradicate stereotypes about Muslims.
At 16 she founded The Hijab Project which encourages Muslim and non-Muslim women to try wearing the garment and share their experiences on social media.
Antonia Albert
Age: 25
Job: Entrepreneur
Nationality: Austrian
Antonia co-founded Careship, an online marketplace for elderly care, with her brother Nikolaus earlier this year.
After finding it difficult to find care for their ill grandmother, they wanted to give users straight-forward access to qualified and certified professionals.
Muzzon al-Mellehan
Age: 16
Job: Campaigner
Nationality: Syrian
Muzzon fled with her parents and three younger siblings to Jordan in 2013, and lives in al-Azraq refugee camp.
She has been dubbed the "Malala of Syria" for her campaign to keep Syrian girls like her in the camp's makeshift school, rather than being married off.
Paulina Arreola
Age: 24
Job: Entrepreneur
Nationality: Mexican
Paulina is CEO and co-founder of Lavadero in Mexico City, which collects dirty washing.
The company either washes or dry cleans the items before delivering them back to the customer.
Alice Gray
Age: 23
Job: Blogger
Nationality: British
Alice Gray graduated from Cardiff University with a BSc in Neuroscience in 2013 and has been blogging ever since. Her blog, mindful.blogspot.co.uk, discusses issues which women face in science, technology, engineering and maths ('Stem' subjects).
She aims to improve the number of women in the industry and has been involved in inquiries into Stem education in Wales.
Ayesha Ishtiaq
Age: 17
Job: Schoolgirl
Nationality: Pakistani
Ayesha is a Year 12 student from Islamabad who is passionate about tackling the sexism she sees in her society.
She conducts feminist and human rights talks with friends and plans to study journalism or women's studies in the US before returning to Pakistan to help others.
Elissa Freiha
Age: 25
Job: Entrepreneur
Nationality: Emirati
Elissa is the co-founder of WOMENA, which aims to empower women to invest in tech start-ups based in the Middle East.
She was recently named as one of Forbes' Middle East's Inspiring Business Leaders of the UAE.
Sonita Alizadeh
Age: 18
Job: Rapper
Nationality: Afghan
Sonita narrowly escaped being sold into marriage as a young girl by writing the song 'Brides for Sale'.
She now uses her powerful voice and poetic lyrics to advocate an end to forced marriage across the world.
News