School Leaver Awards 2018: Spotlight on Softcat
Louis Way is a Corporate Sales Apprentice at Softcat, which was named the top employer in the IT and technology sector at our School Leaver Awards in May. We caught up with Louis to find out what it's like to join Softcat as a school leaver, how his career is progressing, and why he's glad he made the decision to join the Softcat apprenticeship programme.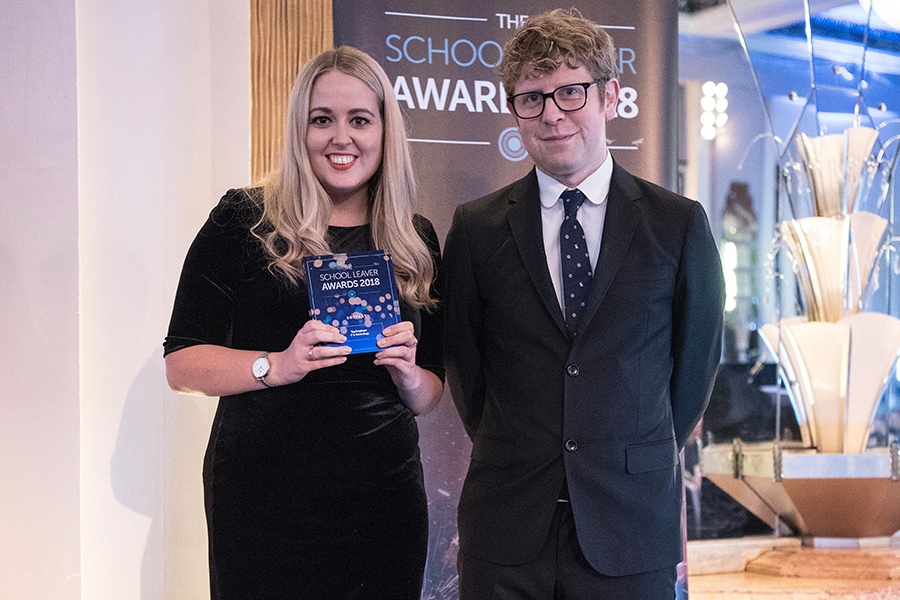 What are your thoughts on Softcat winning?
I'm not surprised! I think it's fully deserved on Softcat's part. Although I've only been here a year doing the apprenticeship, and I didn't know about Softcat before I joined, it's quite clear from the time that I've been here that the company has invested a lot in me, as well as the other employees within the apprenticeship scheme. It's great to get such comprehensive training so early on in my career! I was always dead set on going to university until the last year of sixth form, when I decided that I really wanted to start work as soon as possible. The apprenticeship at Softcat popped up and it was perfect for me.
What is your current role, and what do you enjoy most about it?
I am currently in an account management role, which relates closely to business development; in a way, it's like running your own little business, as you have your own network of customers from which you generate new business and sell products to, as well as rekindling relationships with customers that may have broken down in the past. Alongside selling products I also work with customers on a number of different projects. This involves looping in various specialists internally, as my role isn't technical in the slightest!
The bit that I enjoy the most about the role would be the people I work with – this applies equally to my colleagues within my team and also to the customers. Working for such a big company means that there's always someone new in the office, so it's always good to get to know unfamiliar faces.
I also enjoy the autonomy; if you work hard, you will reap the rewards. There's no limit on what you can achieve at Softcat which is obviously very motivating.
What's been your most memorable experience?
My favourite moment has to be an incentive I won with one of our vendors about four months into my apprenticeship. The company treated us to a seven-course meal at a Michelin star restaurant in Mayfair – something I'd never done before, but always wanted to! It was a crazy experience and 100% my favourite so far.
What's been the most challenging thing about your current role?
In leaving school and starting work straight away, I faced the challenge of getting into the swing of things and adjusting to the routine of working life. Being really excited to start work, I did get used to this quite quickly, but it was at times difficult, especially when I observed friends living the university lifestyle when I was working!
But now I'm really glad I didn't go to university – I feel very lucky to have got the role at Softcat. I'm also in a similar position to most of my friends; out of my friendship group from sixth form, only about four went to university – the rest are doing apprenticeships too, or have got jobs straightaway.
I enjoy the autonomy; if you work hard, you will reap the rewards. There's no limit on what you can achieve at Softcat which is obviously very motivating.
What advice would you give other account management apprentices?
It's hard work to start with, as you need to get used to picking up the phone and speaking to someone! But if you keep at it, the rewards are there, particularly with uncapped commission. There's no limit to what you can earn.
On a lighter note, I'd also recommend that all apprentices join a gym! Since I've started work I've certainly felt myself putting on the pounds and heading more towards the dreaded 'dad bod' – we call it the "Softcat stone".
Where do you see your career progressing from here? What are your future plans?
I would hopefully like to progress into a management role within Softcat – next year, there's the possibility that as a person who's done the apprenticeship scheme, I may be able to manage two or three apprentices, depending on where I'm at with my account base and targets! It would be great to help others navigate the apprenticeship too. Ideally, I'd like to be the youngest team leader in Softcat – I'm only 18 at the minute, but looking into the future this would be great.
Tell us some interesting facts about yourself?
When I was at school, I organised a quiz night to raise money for the charity Young Minds. I led a small team of four and we managed to raise just over £1.000 in one night! Liaising with the charity really inspired me and gave me the first inkling that I wanted to go into a client-facing role, as well as that I wanted to get straight into the world of work! It was also spectacular to raise such a large amount of money for charity.
I'm also actually the youngest ever Fulham fan! My Mum gets a bit annoyed at this, but when I was 22 hours old, rather than being with my Mum and I at the hospital, my Dad went off to Fulham and got me registered as a Fulham fan!
Outside of your apprenticeship, what are your main interests or hobbies?
I try to get to as many Fulham games as I can, as well as going out with my friends. I also spend as much time with my girlfriend as possible, now that we both work. I also like to think I'm a massive foodie – as everyone at work likes to remind me!
The IT and technology sectors are constantly evolving. What kind of work do you think apprentices will be doing in 10 years' time?
I think that there will be more technical roles available within the sector, as well as more responsibilities being granted to apprentices in general. Also, I think that as technology continues to develop, from a sales point of view, our job of selling IT products will become all the more exciting, as the products we sell will become more advanced. It's crazy to think of where we might be in 10 years' time – there might even be apprenticeships within the space sector, for example, or we may end up within electric cars! It's hard to pinpoint exactly where we'll be but I'm sure it will be exciting.
Fancy following in Louis' footsteps? Find out more about Softcat by visiting its website.
News