Why science apprenticeships are good news for everyone, not just school leavers
Emma Finamore
Last updated 23 Jun 2022
Science apprenticeships are on the rise, which is a good thing for school leavers but also for the whole country.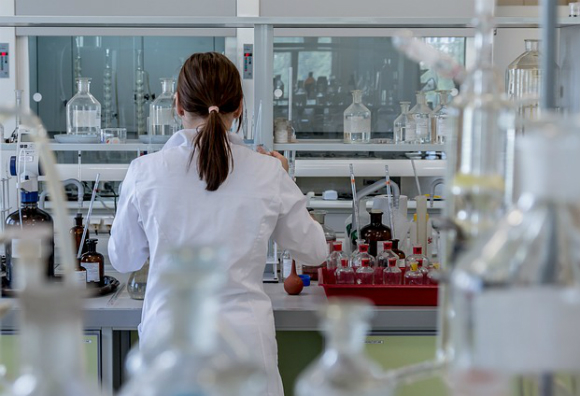 Science apprenticeships are on the rise after years of stagnation. This is good news for young people wanting to move into the industry, but it's also good news for science employers, and could help Brexit-proof the UK.
The government says that from the 2016/17 academic year to July–September 2017/18, apprenticeship starts have increased by 37% and 130% in the laboratory technician and laboratory scientist apprenticeship respectively. What's causing this upturn?
Why are more school leavers doing science apprenticeships?
As university degrees become more expensive in general, apprenticeships are becoming a more attractive option in terms of affordability.
But science and medical degrees are even more expensive than arts, humanities and social sciences, which makes science apprenticeships even more important when it comes to helping school leavers into the industry.
Tuition fees in the UK vary considerably, starting at around £10,000 but going up to £38,000 or more for medical degrees, according to the Reddin Survey of University Tuition Fees. "At all levels, humanities and social sciences degrees tend to cost the least, while laboratory and clinical degree programs are markedly more expensive", it says.
This could be putting off young people from less affluent backgrounds, and encouraging them to consider science apprenticeships. The rise in university costs could also be putting off female school leavers too.
A report in Grazia earlier this year explored how increasing the cost of studying STEM subjects at university could have a serious long-term impact on diversity and the gender pay gap in related industries. "Since we began measuring the gender pay gap in 1997, it has closed by nearly 10% but progress has more or less flat lined in the last five years," it said.
This has led to some action in the sciences at university – in March the University of London announced an undergraduate degree course completely taught online for £5,650 per year over three years, aimed at encouraging more part-time, working students, following a fall in their numbers after the increase in tuition fees in England – but could also be the reason for the recent uptake in science apprenticeships.
According to a study by Rate My Apprenticeship, science apprenticeships are the 11th highest paid UK apprenticeships on average, with the standard salary coming in at £15,437 a year. That's pretty good for the average 18-year-old, and remember – all training on an apprenticeship is free, paid for by the employer and the government.
Another reason could be the quality of apprenticeships and the training they offer, not just the value for money (paid training and a salary), with high profile employers.
What does a science apprenticeship offer?
Take the Laboratory Science Higher Apprenticeship at GSK, for example, which equips trainees with the skills and knowledge to tackle a variety of scientific challenges working in the company's research and development or manufacturing laboratories.
As well as receiving tailored, on-the-job training from GSK's in-house experts, combined with early responsibility to help with development and progression, apprentices also work towards a nationally recognised qualification: studying for a Foundation degree (FdSc) in Chemical Science on the chemistry-based laboratory apprenticeship, or a Foundation degree (FdSc) in Applied Bioscience, on the biology-based apprenticeship. After completing the FdSc, most of GSK's laboratory science apprentices go on to study for a BSc – a full science degree.
They offer Laboratory Science Apprenticeships in either a manufacturing or a research & development (R&D) setting, provide trainees with the opportunity to develop your skills and knowledge in a number of areas. These might include:
• Operating specialist laboratory equipment to test our products and raw materials
• Learning about the process each drug or product follows through to full-scale manufacturing
• Microbiological & environmental sampling and testing
• Operating specialist equipment to develop new products
• Drug delivery
• Synthetic and analytical chemistry
• Data analysis and interpretation
• Report writing
Science apprenticeships also gain skills that they would not on a science degree – soft skills and personal skills like reasoning, communication, problem solving, team working, relationship building and influencing. These are arguably as important when it comes to future employability as technical skills and academic knowledge.
There's also hands-on support on an apprenticeship that you might not get on a science degree. At GSK, to stick with this real-life example, apprentices are assigned a buddy or a mentor who will be there to offer support and guidance throughout your apprenticeship.
GSK apprentices themselves explain why the programmes can be a better option than science degrees at university. "It feels great to run experiments and they run successfully," says one apprentice. "Others in the lab are doing the same level of chemistry - I'm never treated differently in the team."
Another describes their pride in the career progression and what they've already achieved: "I'm so proud to get on to the programme. I still walk in and think, 'Wow!' My biggest achievement is, while only a third year apprentice, I am already an Instrument Owner. There are only two owners across GSK, as it's a new technology."
Why are science apprenticeships good for employers?
It's not just your science career that could be boosted by an apprenticeship: the UK's science industry and its businesses / employers need more apprentices too. Up until now, they've been barely a speck on the apprenticeships landscape. According to a House of Commons briefing paper published in November, under 500 people started an apprenticeship in Science and Mathematics every academic year since 2009/10. Compare this with, say, 138,000 Health, Public Services and Care apprentices in 2016-17, and you can see just how slow the science sector has been in recruiting apprentices.
This means the spike in science apprenticeships is an even more welcome one for businesses in this industry: so far they've been missing out on bright, ambitious school leavers like you to university degrees. Apprentices are especially useful for science employers as they need highly-skilled, specifically trained staff, but don't always have the means to fund this training.
Science apprenticeships could also help employers cope with shortages linked to Brexit. Organisations have already started to see a decline in people coming from the EU to work the UK sciences industry. According to the Wellcome Trust, the organisation has already started to see signs of this decline: "In the last year, the proportion of EEA researchers applying for our early career schemes fell by 14% and the Wellcome Sanger Institute saw a near 50% drop in postgraduate applications from non-British EU nationals."

Lobby groups such as the Campaign for Science and Engineering (CaSE) have argued that post-Brexit, science should be made more open to EU citizens, further demonstrating the importance of maintaining a steady stream of trained professionals into the industry.
"I'm so proud to get on to the programme. I still walk in and think, 'Wow!' My biggest achievement is, while only a third year apprentice, I am already an Instrument Owner. There are only two owners across GSK, as it's a new technology."
In a report published in March, the group said that the public agree with this too, regardless of their position on Brexit: "86% of the British public want to increase or maintain levels of immigration of scientists and engineers. Only 18% of Leave-voters want migration of scientists and engineers to decrease."
CaSE Executive Director Dr Sarah Main said: "Science is a success story in our relationship with the EU. But Brexit uncertainty is beginning to bite. In our comprehensive survey of the sector, research organisations report falls in application rates from EU nationals and candidates turning down prestigious."
The Science Council has also noted the sciences skills gap: "The UK faces a shortage of technicians across all industries and sectors."

Apprentices can help plug this gap. Higher Apprentices in this field, for example, will likely be operating specialist laboratory equipment to test and develop new products and materials in science-related industries, and often progress into research and development roles.
Getting more girls into science apprenticeships
Despite performing well at school, young women are not taking up the rewarding and potentially lucrative opportunity offered by science apprenticeships. In fact, boys aren't much either: there were fewer than 300 science and mathematics apprentices last year, a tiny proportion of the near 500,000 apprenticeship starts in England in 2016/17.
It's not just science – related industries that are associated with men also miss out on female school leavers. Women made up just 2.3% of those achieving an engineering framework apprenticeship qualification in 2015/16, for example. Only 720 women gained their qualification in a cohort of 30,720. Among those achieving their apprenticeship qualification in engineering the proportion of female apprentices has not exceeded 5% in 15 years. This June, a report by the Commons Public Accounts Committee (PAC) revealed that just 8% of STEM (science, technology, engineering and maths) apprentices were female.
PAC said this is "particularly troubling given the committee's previous concerns". The report, called Delivering Stem Skills for the Economy, states that when the committee examined the apprenticeships programme in late 2016, it recommended that the Department for Education should set up performance measures for the programme that included whether it is delivering improved access to under-represented groups across all occupations.
"Performance measures have been established for the number of black and minority ethnic apprentices and those with learning disabilities. The DfE did not introduce a target relating to female apprentices, because it was satisfied with the fact that women made up over 50% of apprenticeship starts overall."
Encouraging more female school leavers to take up science apprenticeships could also help close the UK's gender pay gap further down the line. Research has revealed that in general the nation's gender pay gap has risen to 26.8%, with male managers on average out-earning female peers by £11,606 a year, up from 23.1%, or £8,964, last year. And even for those women who do progress to more senior roles, the pay gap begins to widen considerably, rising to £34,144, with men earning an average of £175,673 and women £141,529.
But in science – part of STEM – things are different, or at least at the beginning of careers. According to research carried out by Deloitte, the gap in starting salaries between men and women who have STEM subjects and go on to take jobs in those spheres is smaller than in any other subjects studied. If more women were to pursue careers in these areas, Deloitte's research concluded, not only would it give them a more balanced portfolio of skills, but it would also narrow the gender pay gap for those in the early years of their working lives.
What science apprenticeships could I do?
As well as programmes like the GSK apprenticeship outlined above, there's a wealth of programmes to choose from in science. Here are some examples:
Chemical science apprenticeships
Chemistry has emerged as a central science that ties together a multitude of scientific roles, and the modern world has become dependent upon chemical science for the manufacture and development of synthetic materials, the formulation of new consumer products and the breakthrough innovation of new molecules for medicine.
Chemists are not only required to create these products, they must do so through efficient and safe means for their production, packaging, usage, and possible recycling.
As the global population has peaked, the role of the chemical scientist in food security, environmental protection and medical breakthroughs required for the growing world has significantly increased in importance.
Example units:
Inorganic chemistry
Organic chemistry
Physical chemistry
Laboratory techniques
Analysis of scientific data & information
Work-based experience
Laboratory management
Industrial chemistry
Life sciences apprenticeships
These focus on in-depth high level life sciences knowledge that is applied in a work setting, so the apprentice gains the hands-on practical experience not traditionally provided through an undergraduate degree programme.
Topics include:
Industrial microbiology
Biochemistry of macromolecules and metabolic pathways
Cell biology
Laboratory techniques for applied biology
Analysis of scientific data and information
Physiology of cellular systems in animals
Statistics for experimental design
Neurophysiology and homeostatic control of the human body
Molecular biology and genetics
The immune response system
Infectious diseases
Pharmacological principles of drug actions
Medicinal chemistry
Nanotechnology
Chemistry for applied biologists
Bioinformatics
Human health and nutrition
Physiological principles for health and social care
Quality assurance and quality control
Professional competences
News