5 Ways to introduce yourself at an Insight Day
Emma Finamore
Last updated 05 Jul 2015
You've bagged a spot at an insight day. Awesome. Read on to find out how to handle those tricky first introductions.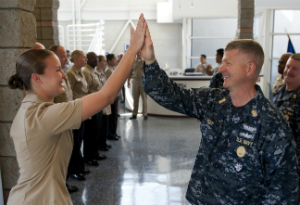 For the unprepared, insight days can be pretty intimidating: a blur of flashy offices and expensive suits, not to mention the scarily professional people filling them. It's just as well then that we've put together a handy guide, to help you through the (potentially nail-biting) introductions and make a killer first impression.
The basics
These seem obvious but you'd be surprised how often people forget them, especially when nerves take hold: lift that chin up, make sure your head is straight and in line with your spine, and put those shoulders back.
Give the people you're meeting a firm handshake, make eye contact - if this feels uncomfortable, focus on the space between their eyes just above their eyebrows - and smile.
Introduce yourself with your full name, what school you're from, and add: "It's nice to meet you, thank you for having me today."
Who to speak to
It will probably be obvious who are the employees of the company you're visiting (name badges are such a give away), so make sure you introduce yourself to them first, or at least to a few of them. These don't have to be lengthy conversations; you're just making sure they know who you are. And what a charming, polite individual you are too.
After this, make a beeline to some of the other candidates and introduce yourself to them too. This breaks the ice and gets you off to a good start with the people you'll be spending the day with, and who knows, potentially working with in the not-so-distant future. It also shows the hosting company how confident and friendly you are, which can never be a bad thing.
What to say
After the basic introduction – which you will have nailed, of course – you might end up chatting with someone from the company. In case your mind goes blank immediately as the handshake ends, here are a few topics to avoid an awkward silence:
- What's their job role?
- What can you expect from the insight day? (note – only if this hasn't been sent to you in advance!)
- Compliment the company's offices – how long have they been based there?
- Be enthusiastic about the town / area the company is based in – do they enjoy working in the area?
- Ask about the job company's application process - what is expected of you, what you can do to boost your chances, what they look for in candidates. This demonstrates how interested you are in the company, and will give you an advantage if you do decide to apply for a position.
While they're speaking
You've asked plenty of interesting questions during your introduction, and now you've got them talking. Here's how to keep up the good work.
Make sure you look like you're listening attentively. Keep your eyes on theirs (or that spot between their eyebrows!), smile occasionally (think "charming and calm" rather than "crazed Joker") and punctuate your totally switched-on-ness with slight nods of the head.
Remember: always wait for them to finish speaking before answering. No one likes to be interrupted, especially not company bigwigs!
Making your exit
Ok, so we know this is actually the total opposite of an introduction, but it is just as important and works on the same principles: making a good, lasting impression.
Remember when your mum used to pick you up from your mates' houses after going round for tea, and always jabbed your ribs, quietly hissing at you to say thank you"? Well, turns out she knew what she was talking about.
Make sure to find the members of the company you have spent the most time with, use all the approaches outlined in our first step and thank them for the day. Make a point of saying how nice it was to meet them and their team, and how interesting it was to learn more about the company.
Again, you will demonstrate not just confidence and friendliness, but good, old fashioned, manners – which will leave them thinking how great you are. And would make your mum proud.
News