School Leaver Awards 2018: Spotlight on MediaCom
Becky Kells
Last updated 07 Aug 2018
Back in May, MediaCom was named the top employer for media and the arts in the School Leaver Awards 2018, as determined by feedback from its apprentices and school leavers. We caught up with two of them – Molly and Ashley – to find out what it's like to work for an award-winning employer, and how they feel about the win.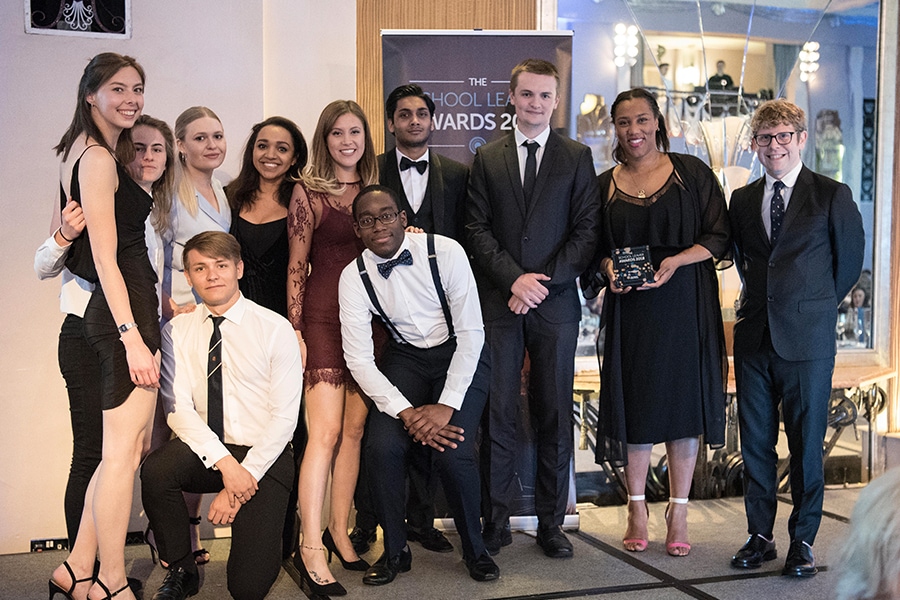 What are your thoughts on MediaCom winning?
Molly: MediaCom's apprenticeship scheme is absolutely fantastic and I think the fact that we won an award for it proves this.
Ashley: It's a well- deserved win! We're the biggest media agency in the UK, that also has one of the best apprentice schemes; the fact that a company so huge can still pay attention to detail with apprentices and make sure there is a suitable support structure in place is a huge achievement that can't be overlooked.
What do you enjoy most about your current role? What's been your most memorable experience?
Molly: I love working in a planning team because it exposes me to not only a detailed understanding of audiences and competitive/industry activity, but also provides a breadth in terms of working with different types of media and media owners. My most memorable experience during my apprenticeship was going to the Top Employer Awards evening and meeting the host Josh Widdicombe.
Ashley: I love engaging with TV sales houses, media owners, and also negotiating internally with colleagues; my confidence has grown ever since joining the company. A memorable experience for myself has got to be hosting a panel discussion on apprenticeships. It took a great deal of organisation from myself and other MediaCom apprentices, but it was a fantastic experience, and I hope to build on my presentation and hosting skills in the future!
What's been the most challenging thing about your current role?
Molly: Being able to manage a workload between multiple clients on two busy accounts.
Ashley: Having the opportunity to rotate throughout the business and work in different departments every four months is one aspect of the apprenticeship that makes it one of the best in the country. However, it can sometimes be tricky entering a new team and building new relationships every few months. Having said that, it eventually leads to apprentices having a wide network at MediaCom, all ready to lend a hand when needed!
What advice would you give other media apprentices?
Molly: To take any opportunity that arises and try to learn as much as possible from everyone in the team. Any opportunity there is to broaden an understanding into something should be taken.
Ashley: Don't stop asking questions. There is always something to learn from individuals who have been in the industry for much longer than yourself and they'll be happy to explain a concept you may not understand or want to dive deeper into.
"I'd like to continue focusing on my current role here at MediaCom, and also help other apprentices coming into the business. I've 'been there and worn the T-shirt', so I'd like to think I have a few handy tips to hand out!" - Ashley
Where do you see your career progressing from here? What are your future plans?
Molly: I would like to see my career progressing through MediaCom, and my plan for the future is to have a great understanding of media and how the industry works.
Ashley: I'd like to continue focusing on my current role here at MediaCom, and also help other apprentices coming into the business. I've 'been there and worn the T-shirt', so I'd like to think I have a few handy tips to hand out!
Tell us something interesting about yourself?
Molly: Music is one of my main passions, and I love to write my own songs and play guitar.
Ashley: I have seven middle names! Reciting them all definitely raises a few eyebrows…
Outside of your apprenticeship, what are your main interests or hobbies?
Molly: Listening to and playing music, and going to watch live music at festivals and gigs is one of my main interests. I also love sports, having played football my entire life, and follow Women's Super League and try to go to every England Women's international game that I can.
Ashley: I'm quite boring; does television count as an interest? I can't wait for the next series of Peaky Blinders, and Bulletproof with Ashley Walters and Noel Clarke is a recent show that had me hooked. I'm also one of the only people in the world who hasn't seen any Game of Thrones, so I've got a lot to look forward to! Apart from that, I do enjoy playing basketball with my brother, or pretending I'm Ainsley Harriott in the kitchen.
With media and arts roles being among the most varied, what are the advantages of doing an apprenticeship in this subject - has it helped your creativity?
Molly: Doing an apprenticeship in the media and arts industry provides a massive variety in day-to-day working life, and being able to have exposure to such a wide range of media channels and owners means that as an apprentice you can start to decide which parts of media you are most interested in pursuing in your career.
Ashley: Media and the arts is one of the most creative and fun industries to work in at the moment. It's extremely broad, with a variety of different roles, and it is also constantly changing, with fast-paced industry advancements every single week. Doing an apprenticeship at MediaCom has been sensational; they are a company that don't stifle creativity at all and really love individual characters and personalities.
Fancy working for a top employer? To find out more about school leaver opportunities at MediaCom, contact mediacom@outsourcetraining.org.
News