5 Amazing Women School Leavers
Our latest annual research report, 'The School & College Leaver Careers Market 2014', told us that almost half of school and college students are considering career paths outside of the traditional university route. With that in mind, and with International Women's Day around the corner in March, we've compiled a list of awesome women school leavers, who did things their own way.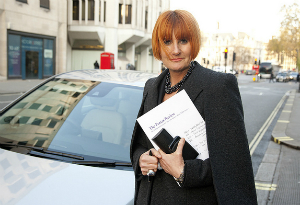 Caitlin Moran
Kick-ass journalist, author, Twitter-addict, and famous feminist, Caitlin left school, moved to London and landed her first job aged just 16 at Melody Maker music magazine. She is now a prominent columnist for the Times, and the author of hugely successful books, How to be a Woman, How to Build a Girl and Moranthology.
Liz Bingham
Liz joined professional services company, BDO, straight out of school, then moved onto EY. She was promoted to director, and then into a leadership position as Managing Partner of People and Talent. She is a campaigner for diversity and inclusiveness in the workplace, for non-graduates, for women, for parents, for flexible workers and for gay people. In 2012 Liz was ranked in the World Pride Power List of influential LGBT people worldwide, and will receive an OBE for services to equality this month.
Mary Portas
The official Queen of Shops (and frocks) began her career as a Saturday girl in John Lewis. She then became responsible for windows and display at Harrods and then Topshop. Mary went on to join Harvey Nichols, then launch a television career with series Mary Queen of Shops and Mary Portas: Secret Shopper, as well as documentary, Mary Queen of Frocks. She has also worked for the government, leading an independent review 'Future of the High Street'.
Josephine Fairley
Josephine Fairley is the founder of Green & Blacks chocolate. She left school at 16 and by 23 she was a magazine editor, making her the youngest women's magazine editor ever. After moving on from Green & Blacks, Josephine co-founded the series of Beauty Bible books, as well as opening a well-being centre. She now travels widely as public speaker and writes for the Telegraph.
Jo Malone
Creator of some of the most coveted scents of all time, the multimillionaire founder of her namesake Jo Malone, left school at just 13 to care for her sick mother. Jo is dyslexic so did not return to school, instead she started giving facials for a living, and creating fragrant bath oils for her clients. From there, she set up her first store in London's fashionable Chelsea, and her eponymous company grew into an internationally renowned luxury brand.
News