Interview with a gig promoter
Emma Finamore
Last updated 31 Aug 2015
How to land that cool job in music you always wanted, without heading to university.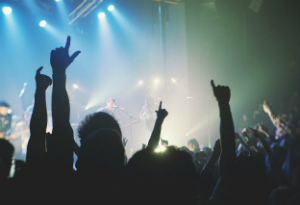 Ciara Johnson loves her job, promoting live music and festivals all over the UK. We caught up with her to find out what it's like day-to-day, how she got there, and most importantly: how you can get there too.
What is your job?
I'm a Promoter Assistant at Kilimanjaro Live - a live entertainment promoter. Even though we're based in London we organise nearly 500 live music and entertainment events every year, ranging from the biggest arena tours, to festivals and small gigs in a local pubs.
What is a typical day like?
A very busy one! A typical day usually involves lots of contact with a variety of people, from venue managers to artist agents, management, press agents, advertisers and record companies.
I'll be speaking to them about venue availability, confirming shows, marketing, press and anything in between.
If we have a show that day then I'll be settling the marketing costs and making sure the show rep (who runs the event) has everything they need.
How did you get to where you are now?
I don't have any specific qualifications like a degree or specific A-levels that helped me get where I am, except a CIM for marketing that I did more recently – a vocational qualification – I've done it the old-fashioned, step-by-step way, and have worked in the events industry for 10 years.
I worked my way up from box office assistant, to marketing roles, to booking and promoting for gigs and festivals.
What do you love most about your job?
I absolutely love going to an event that I've helped arrange or promote, and seeing people totally enthralled by it.
Nothing beats seeing thousands of people having the time of their lives and knowing you've had a hand in it.
And what are the less positive aspects?
It can be majorly stressful; juggling dates, budgets, bands and so on can fry the brain – or keep it fit, I can't decide!
What advice would you give a young person wanting to pursue a career like yours?
I would say go to loads and loads of gigs, be prepared to go in at the bottom of an organisation like Kilimanjaro Live, work hard and work your way up. And take risks - really try your hand at lots of different things.
Most importantly, know that a genuine passion for music is what comes across to employers more than anything else - so demonstrate it.
News