Why we need more female electrical apprentices
Emma Finamore
05 Feb 2018
In the month of the International Day of Women and Girls in Science, we thought we'd take a look at another industry that could do with a better gender balance and how apprenticeships could be the answer.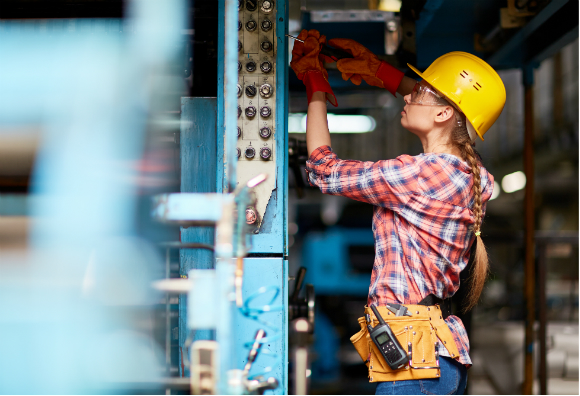 If you or your parents have ever called out an electrician, then there's an overwhelming chance the person who turned up was male. That's because only one in every 1,000 electrical contractors in the UK is a woman, which surely positions it as one of the most gender-biased industries around.
Why is that? Many reasons really, but it's impossible to deny that being an electrician, as with all the trades, is often seen as a 'job for the boys'. Surely there has to be plenty of women out there who would be interested in pursuing the electrical industry as a career, so how can we change this perception of it being just for men?
That's the objective of electrical wholesalers QVS Direct who have launched a campaign to get more women involved in the electrical industry and show there are many women out there who are already succeeding in the industry.
They have interviewed a number of women working in the electrical industry to discover their stories and find out what advice they'd give to other women wanting to make it. They have also spoken with several major industry bodies for their views on the topic.
For example, when asked what advice she'd give other women, Benita Mehra, President of the Women's Engineering Society said: "Believe in yourself, make sure you're resilient and self-confident, as there will be knocks on the way. Keep talking to people – the more you talk, the more support you get and the easier it is to gather support.
"You will be a minority, but you must never feel like you're on your own or that you're failing from the outset. You're not. Have confidence in your own abilities and talent and you will flourish."
"From the research we have done, there is a massive demand for tradeswomen and we need to encourage women to join the industry to cope with the demand."
They also spoke with Coleen Everitt who runs her own electrical business, Alto Electrical, and she firmly believes there's plenty of demand for female electricians. She said: "I've found firsthand that there's a huge demand. I have been going two years now and there is just not enough of me to do all the work I get. I try to get to the people who I feel specifically want a female."
Likewise, Natasha Clark-Withers runs Get Her Trade, a directory of female tradeswomen in the UK, and she found the same: "From the research we have done, there is a massive demand for tradeswomen and we need to encourage women to join the industry to cope with the demand."
Becoming an electrician can be very lucrative, and is the best paid of all the trades, particularly if you set up on your own once you've learned the ropes. With salaries often upwards of £30,000 a year and a recession-proof trade that's in high demand due to the current skills gap in the UK, there's never been a better time to pursue an electrical apprenticeship.
Visit QVS Direct's 'Supporting Women in the Electrical Industry' campaign to find more advice on getting into the electrical industry, or find out more about applying for apprenticeships.
News