Why I chose my School Leaver Programme in Audit
Emma Finamore
Last updated 03 Oct 2023
With A-levels in tough subjects – Accounting, Maths and Economics – Harry Neville could easily have gone to university. Instead, he chose to embark on Deloitte's BrightStart School Leaver Programme. We found out why, and how it's going for him.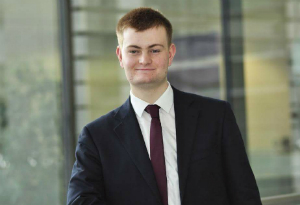 What made you choose BrightStart over an apprenticeship or university, and in this particular field?
I studied Accounting at A-level and the first stage in my career was to become a Chartered Accountant (ACA qualified). The Deloitte BrightStart scheme offered me the opportunity to study for the qualification straight out of school, and become qualified in five years, rather than the six years (minimum) it would have taken to obtain an undergraduate degree, and then join as a graduate.
What specific features of the scheme made it appealing to you? Perhaps there was a certain practical element or theoretical module which piqued your interest for example??
For me the most appealing feature is the ACA qualification. Anybody interested in accounting should strive to become a Chartered Accountant, by obtaining a professional accountancy qualification. I also wanted to work for a big, global firm to ensure that I have the best possible career prospects once qualifying. Of course the pay is also a very appealing part of the scheme!
What qualification are you studying for, and how long do you spend on that every week/month? How do you balance it with the demands of your job?
How long I spend studying towards the ACA is dependent on the time of year really, for example during our "busy season" (from January to March) my sole focus is on my day-to-day audit work. During my first year of the scheme, I had about six weeks off work for studying, spread across six exams.
In general, there is a six-week period between our college time and the exams, so across that time even though I am working during the day, my managers understand that exams take priority, and I am able to finish earlier than normal in order to study. So far, I haven't had any problems with my exams.
Do you feel supported by the organisation in your studies and work? How so?
Each of the managers has been through the same process (most of them as graduates) so they understand how intense the studying can become. This means that they ensure that we have plenty of support, and if we are struggling to balance work, we are able to take leave in order to catch up with our studies.
Deloitte also pays for our college, with the tutors being really useful, and who often trained with big four companies themselves, so are also on hand to provide support if needed.
Do you think choosing BrightStart has boosted your employability prospects? How?
The BrightStart scheme has undoubtedly improved my employability skills. When I compare myself to my peers at university studying accounting, my technical knowledge is more in-depth due to studying for the ACA, but more importantly I have a more practical understanding of how things work in the real world.
I've also improved my key competencies on the programme, such as report writing, or interacting with clients and other skills that might have been overlooked if I was at university. During down time, I occasionally browse job opportunities online, and am always surprised how many of the requirements I already meet, just due to the experience I have had in my first year.
What is the most challenging element of BrightStart? And the most enjoyable? Has this surprised you?
As I am now a second year, I am in essence, expected to field manage and help new starters with their work. This is a strange feeling, as I've had to delegate work and review work of graduates from top universities. This is definitely surprising - I didn't expect to have to have this sort of role after the first year - but it is amazing how much a BrightStart can learn in their first year at Deloitte.
The other aspect of the job that was really surprising was the social side, most weeks there are some form of company drinks or meals that I am invited to.
Where would you like to be working a year on from completing BrightStart?
At some point after qualifying, probably around a year afterwards, I would like to go on a secondment at one of the other global Deloitte firms. I have my eye set on either New York, or somewhere in Australia. One of the best things about working for a global firm is the ability to move around different areas, and potentially change departments as well, to add even more variety to my CV.
Did you know this is what you wanted to do when you applied, or has your ambition been influenced further during the course of the scheme? How is your programme helping you work towards this goal?
My first goal was always to qualify as a Chartered Accountant, but beyond that I hadn't given any thought of where I wanted to be, and what I wanted to be doing. I also didn't realise how many options I'd have once I qualify: I could go into a variety of roles working for banks, or join the regulators, or try other departments at Deloitte.
It was my ambition when I joined Deloitte to one day make Partner, so I'll have to wait and see. I've still got plenty of time to make my decision though, so there's no rush!
News