Young Female Engineer is IET Apprentice of the Year
The Institute of Engineering and Technology (IET) has named Lydia Feasey as their Apprentice of the Year. The prize is part of the IET's Apprentice and Technician Awards which form part of the Institute's Inspiring Engineering Excellence Award Series.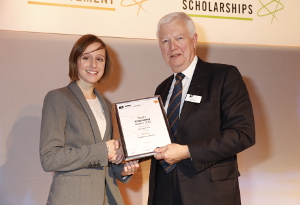 Lydia received an award of £1,000, two years' free membership of the IET and payment of her professional registration fees in recognition of her excellent progress and contribution as an apprentice.
She is now a Mechanical Technician at the Culham Centre for Fusion Energy, and completed her apprenticeship at the Joint European Torus, which is a Fusion Research project also based at the Culham Centre for Fusion Energy near Abingdon, Oxfordshire. The purpose of the facility is to develop fusion as a clean energy source for the future.
Barry Brooks, IET President, said: "Lydia should be very proud to have been named IET Apprentice of the Year. The award recognises that she is one of the most exceptional young individuals working in her field.
"There is an urgent need to encourage more young people into engineering and to highlight that apprenticeships provide a vital way to develop skills that are much in demand in the increasingly complex engineering and technology sectors. This route into the profession opens doors to exciting and rewarding careers."
On receiving her award, Lydia said: Of her win, Lydia has said: "It's amazing to have been chosen as the IET Apprentice of the Year 2013. I am very grateful for the support I have had throughout my apprenticeship which has enabled me to get to where I am today."
You can find out more about the Apprentice and Technician Awards here!
News