PepsiCo Crowned Apprentice Team of the Year
The annual Brathay Apprentice Challenge saw victory for Team Pepsi from PepsiCo this week. Fundraising, promoting apprenticeships and a whaler boat race all contributed to the team's win.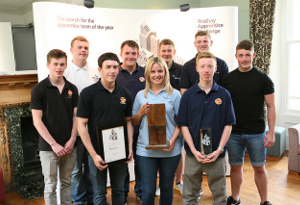 Eight apprentice teams in all gathered for the final in Ambleside, Cumbria: a two-day challenge to put their team work skills and personal attributes to the test. It was the pinnacle of six months of competition, during which over 110 teams (over 1000 apprentices) took part to raise money for charity and promote awareness about apprenticeships by presenting talks in schools and in the media.
Apprentices from Oxley Developments, Queen Elizabeth Hospital Kings Lynn, South Worcestershire College, Virgin Media, QinetiQ, British Airways, e2v Technologies and PepsiCo raised over £30,000 altogether for eight charities, and held a number of talks to explain the value of apprenticeships.
The two-day final involved a number of activities designed to test the apprentices' problem solving and physical abilities. It finished with an epic whaler boat race across Lake Windemere!
Winners PepsiCo raised nearly £7,000 for Cancer Research UK and completed a community project which involved transforming the pond, allotment and garden area of Barcleycroft School in Leicester. The competition overall highlights the importance of soft skills in work as an apprentice.
Team member and engineering apprentice, Sam Kelly, said on winning the Challenge:
"It's difficult to describe just what winning the 'apprentice team of the year' title means. The whole team has worked really hard, not only in the last few days but throughout the whole Challenge – and we've had huge support from our colleagues, our families and friends.
"We hope that winning the title will aid in our efforts to inspire young people and promote apprenticeships. Hard work, determination and self-confidence are key in success. We also hope that young people can use our journey as a lesson for themselves."
Deputy Prime Minister Nick Clegg commented on the competition: "I want to congratulate the winners and all of the competitors in the Brathay Apprentice Challenge.
"Together they have shown the genuine difference an Apprenticeship can make to give young people the chance to pursue a dream job as well as helping a business grow and increase its productivity.
"It is important that we work together to encourage even more businesses to offer Apprenticeships so we can ensure Britain's long term success, building a stronger economy and fairer society for this generation and the next."
News