Fashion retail apprenticeships: doing an Advanced Apprenticeship
Emma Finamore
Last updated 21 Jan 2019
Explore the apprenticeship options available in fashion retail, for those wanting to complete an Advanced Apprenticeship.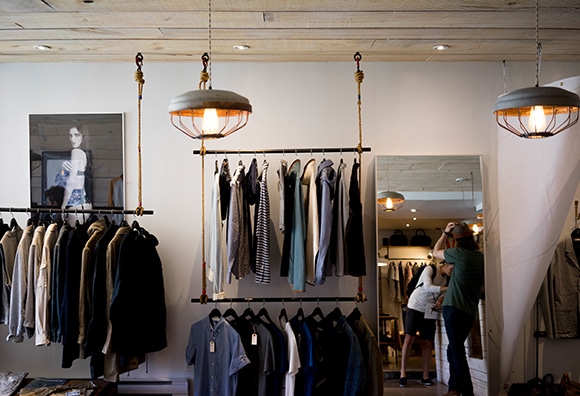 Retail covers a host of businesses, from market stalls and independent shops to national chains and large superstores. There are many fashion retail apprenticeships available at Advanced Apprenticeship level, sitting within the government's retail and commercial enterprise apprenticeships framework.
Fashion retail Advanced Apprenticeships: jobs
As an Advanced Apprentice in fashion retail, your role will depend on your employer: you could be assisting customers on the sales floor of a high street store or handling their purchases.
Alternatively, you could be working in a specialist department and become a product expert, able to help with specific queries.
An artistic flare could point you in the direction of visual merchandising, helping to create window and in-store displays. Or you could work behind the scenes in stock handling; ensuring products are received in the correct quantities and appropriately stored.
On an Advanced Apprenticeship in fashion retail you could train in roles like:
- Senior sales assistant
- Visual merchandiser supervisor
- Style advisor (personal shoppers, retail consultant, stylist)
- Supervisor or team leader
- Department manager
- Store manager (of a small outlet)
Fashion retail Advanced Apprenticeships: career progression
With a young workforce, the UK's retail sector is vibrant and offers many opportunities for early career progression. The skills gained from the retail apprenticeship are transferable to all retail companies.
Fashion retail Advanced Apprenticeships: training
Both the Intermediate and Advanced Apprenticeships cover a range of skills that can be used across this vast sector, but on the Advanced Apprenticeship your training will focus on gaining specific skills in your preferred speciality. You will handle more responsibility and gain important management skills.
Depending on the course prerequisites, you might be able to use an Advanced Apprenticeship in fashion retail to apply for a foundation degree or even bachelor's degree, in subjects like fashion visual merchandising and branding, retail marketing, and retail management.
As with all apprenticeships, fashion retail Advanced Apprenticeships will involve a combination of paid work and assessed training, with a training provider such as a further education college, all while being paid a proper wage.
More articles like this