Apprenticeship Graduation Ceremonies to Take Place
The mortarboard will no longer be reserved for students graduating from university. The government is putting forward funding towards the graduation ceremonies project which aims to roll out graduation ceremonies for Higher and Advanced Apprenticeships who successfully complete their programmes.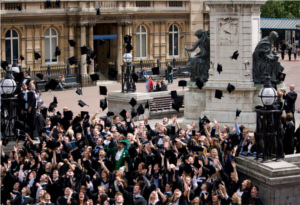 The project has seen two pilot ceremonies over the past two years. Now the remainder of the £400,000 funding amount has been granted by the government to a further 19 apprenticeship providers so that they can give their graduating apprentices the mortarboard and gown treatment and celebrate their achievements.
The idea behind creating graduation ceremonies for apprenticeships is to further the Advanced Apprenticeship and Higher Apprenticeship option image as a path that's equal to the university route into a career.
Skills Minister Nick Boles said: "Our ambition is for it to become the norm for young people to achieve their career goals by going into an Apprenticeship or to university or, in the case of some Higher Apprenticeships, doing both.
"These graduation ceremonies will recognise and reward the success of our apprentices and by doing so, will raise the profile and quality of Apprenticeships.
"These graduation ceremonies recognise the best of the best and are an excellent opportunity for individuals and employers to gain the credit they richly deserve for investing in their own futures. They will provide the opportunity for everyone involved in the success of Apprenticeships - parents, influencers and employers - to come together with a real feeling of pride in what the apprentices have achieved in their learning and work."
The successful bidders for funding for graduation ceremonies for apprentices are:
City College Plymouth and Plymouth University
Gloucestershire College
Skills CFA
Derby College
Norfolk County Council
South Devon College
Myerscough College
Croydon Council
Bedford College
Leicester City Council
Work Based Learning Alliance Ltd.
Dorset and Somerset Training Provider Network
City of York Council - York Apprenticeship Hub
Staffordshire County Council
EMFEC
Uxbridge College
West Yorkshire Learning Providers
ALPS Partnership Ltd.
NECC
News