School Leaver Awards 2018: Spotlight on Goldman Sachs
Becky Kells
Last updated 26 Sep 2018
Goldman Sachs' status as a top employer of apprentices was cemented when it won the top spot for banking and financial services at the School Leaver Awards 2018. We caught up with Sephora, a first-year apprentice in the Investment Banking Technology team, to find out what makes Goldman Sachs a top employer for apprentices.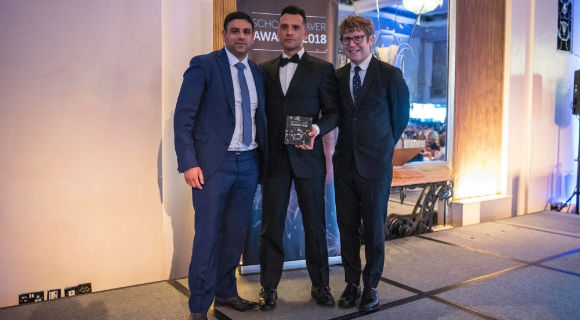 What are your thoughts on Goldman Sachs winning?
Winning such an award is both well-deserved and a testament of the quality of training, support and opportunities provided at Goldman Sachs (GS). Since we go to university and take part in the apprenticeship, the firm has strived to ensure that we are well prepared to balance both work and university. It has given us opportunities to learn and grow professionally and has provided a seamless transition, through orientation weeks and training sessions, to integrate into the Goldman Sachs culture.
What do you enjoy most about your current role? What's been your most memorable experience?
I sit in the Technology division supporting the Investment Banking Division, and seeing how technology can be used to help and ease the daily business Goldman Sachs conducts is fascinating. Having come into the firm with little technical knowledge from school, I have learnt so much already, with coding in an industrial environment being more team-based. Everyone works on one problem, with the team being the essence of the solution, not an individual. Everyone is willing to help and the flat-structured, fast-paced ambiance makes being here exciting – you do and learn something new every day!
At Goldman Sachs guidance and coaching are given in abundance as we each have a buddy, our team, our managers and mentors: everyone is rooting for you! My most memorable experience is probably one of our team's holiday outings – everyone singing 'Don't Stop Believing' gathered around a piano! It reflected the warm and friendly culture at GS.
What's been the most challenging thing about your current role?
As a degree apprentice, balancing my time between university and work was very challenging at first. However, with the training sessions provided at Goldman Sachs for both technical and soft skills through our 'First 100 Days' sessions and our orientation week, by the second semester I had gained the skills to manage my time and work effectively both within and outside the firm. The learning curve was extremely steep, with what we were learning practically at work was exceeding what we were learning theoretically at university, but our team and managers have been great at guiding us through this academic and professional journey!
One important piece of advice I learnt here is that our challenges are a stepping stone to growing; be it a programming error or a skill we can improve, a challenge is a blessing in disguise because ultimately, we will learn, gain experience and overcome it!
The people at GS have an aura of integrity, determination and friendliness – there is always a new project to work on and new people to meet. The constantly changing nature of work both motivates and excites me.
What advice would you give other banking and finance apprentices?
Take every opportunity you are given and also ask for opportunities. The vast nature of the industry means that there is always something you can learn and do, or somewhere you can help and shadow. Everyone is keen to see us succeed because we are essentially their investment, and they are happy to spend time on us because we will produce a greater yield at the end.
At first I was wary of asking too many questions, but this is one of the ways to learn and everyone is more than happy to answer. Once you have the answer, not only have you gained a piece of extra knowledge but you can share that knowledge too, and so the culture of learning and the knowledge pool increases.
Where do you see your career progressing from here? What are your future plans?
At Goldman Sachs, internal mobility is encouraged and for my particular programme, at the two-year mark of our four-year apprenticeship, we move teams into another business unit within technology. This not only broadens our network, but also gives us a new insight into another area of business that the firm partakes in.
At the end of the four years we can continue at Goldman Sachs or conversely leave the firm to pursue further education such as a masters' degree or follow other aspirations. I personally would like to remain at the firm since the work environment is enriching; there is always a new aspect of GS to see and dive into. The people at GS have an aura of integrity, determination and friendliness – there is always a new project to work on and new people to meet. The constantly changing nature of work both motivates and excites me.
Tell us something interesting about yourself?
I used to represent England in the U15 Judo Squad and I want to volunteer at the Olympics in Japan, since seeing Judo in its home country of Japan has always been on my bucket list! I also play the violin, piano and double bass. I like listening to a wide variety of music and jamming along to my favourite songs. I find that it acts as an escape, resets me mentally and is a form of expression.
Outside of your apprenticeship, what are your main interests or hobbies?
Aside from playing music I like hanging out with my friends and travelling. Even though I have to study for University as well, I still have time to meet friends and do my own hobbies. Being based in Central London, there is also an advantage in that there is always something to do after work.
As a banking and finance apprentice, you're getting on-the-job experience - something not as readily available to university students, for example. What have you learnt directly from your role as a degree apprentice that you might not have learnt by just taking the university route?
At university, I learn the theory of computer science whereas at work I can practically implement what I have learnt. One main thing I have noticed is that in university there is not a focus on computational testing, and coming straight from school I was not aware of how big and important testing truly is! One of my first tasks was to learn how to test.
Even outside of the scope of any university degree I feel that one major factor that is not expressed to students is that interpersonal and communication skills are vital in any industry. Since joining the firm, my soft skills have greatly improved under the guidance of my manager and training sessions. You don't sit behind a computer here; you develop to become an all-rounded person!
Does Sephora's role appeal to you? Find out more about apprenticeships at GS by visiting its profile and website.
If you're interested in banking and finance roles, head over to our jobs board to check what's available.
News