Tinie Tempah's Music Industry Tips
It wasn't just 'written in the stars' you know: if you want to get ahead in the music biz, you've got to work hard. Tinie gave us his top tips.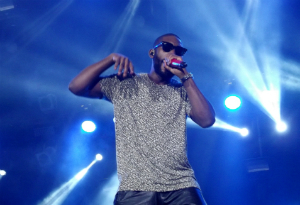 At 16, I had an idea that my passion for music could actually turn into a career for me. Like most teenagers around that age, I needed to find my way in new environments and meet new people. I had to be confident and hang out in the right places. For me, that was in East London, where the grime scene was happening.
If I could sit down with the 16-year old me – and what I think all teens need to hear – is that you should believe in yourself and that everyone has a talent. You can succeed. Don't be afraid to step outside of your comfort zone. Get out there, meet new people and say yes to new experiences.
Looking back, it's been the range of different people I've met and trying new things that has inspired me, my music and ultimately made me the person I am today.
Tinie's tips to get a job in the music industry
Don't be afraid to take a job that isn't 'perfect' to get your foot in the door of where you want to be. The skills you learn in an imperfect job will still be useful when you've got your dream role.
Find yourself a mentor who can guide you on your journey. I'm always learning from those around me.
Surround yourself by friends and contacts who can help you. You never know who might be able to help open doors and give you access to new experiences.
Seek advice from those you trust – they'll keep you grounded and true to yourself
Tinie on the importance of having a mentor
When I first started out in the music industry I knew I really needed a mentor.
My dream mentor was someone slightly older, but still cool, who knew what was going on in the world of fashion of music. Find that person who gets you, and your goals and take on board the advice they give you.
A mentor doesn't just benefit your work they help you grow as an individual. As the oldest sibling in my family I was always having people look up to me, but I needed my mentor to look up to, someone to ask all my questions about life, and growing up.
Having someone like this has helped keep me grounded, true to myself, and keep my sound authentic.
News