Nepotism: 5 celebrities with famous parents
Emma Finamore
13 Oct 2015
If only we all had connections like these...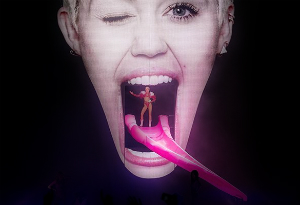 Last month The Guardian reported on the issue of nepotism and graduate jobs: research has showed that well-off families use their connections to get their kids into internships and jobs, while others are left behind having to fend for themselves.
Here, we've taken a look at how this plays out in the world of the celebrity. How many of these famous faces do you think would have made it without their prominent parents?
Miley Cyrus
There's no doubting Miley's fame or fortune – the internet is approximately 73% just photos of her/her tongue – but once upon a time she was a little girl telling her famous dad, Billy Ray Cyrus, that she really, really, wanted to be an actress.
Before long Miley, whose godmother is none other than country queen Dolly Parton, was the first ever artist to have deals in television, film, consumer products and music, all with Walt Disney. Then came the most dramatic image U-turn of all time and Miley/Hannah Montana was killed-off to make way for the bleach-blonde trouble maker we all know and (ahem) love today.
Impressive career and general taking-over of the world? Yes. Could she have got there without encouragement and help from her famous dad and godmother? We doubt it.
Tom Ince
Tom Ince, 23 years old, is a winger for Derby County, who's also played for Liverpool, Notts County, Blackpool, Crystal Palace, Nottingham Forest, Hull City and internationally for England at U17, U19 and U21 levels.
His dad is former England captain, Paul Ince, who spent the majority of his playing career at the highest level; after leaving West Ham United he joined Manchester United where he played in the Premier League. After two years abroad he returned to England to play for Liverpool, Middlesbrough and Wolverhampton Wanderers. Paul went on to become a player-coach at Swindon and Macclesfield, and went on to become a manager at Blackpool and Blackburn among others.
Paul was capped 53 times by England, scoring two goals, won numerous honours with Manchester United, became the first black player to captain the England team and was also the first black Briton to manage a team in the highest tier of English football.
Tom has had more than a leg-up from his prominent pa: he's played for his dad's former club Liverpool, and in 2010, Paul Ince actually put through a two-month loan deal to bring Tom to Notts County.
Willow Smith
Just six years old when she started her acting career, Willow Smith aptly shares a name (almost) with her A-list dad, Will Smith.
Willow made her acting debut in 2007 in I Am Legend (starring, guess who? Her dad) and later appeared in Kit Kittredge: An American Girl alongside Abigail Breslin. She received a Young Artist Award for her performance.
In 2013 she appeared in After Earth a true family affair starring Will Smith and son Jaden Smith, written by Will Smith, and produced by Will Smith, wife Jada Pinkett Smith, and Willow's brother Caleeb Pinkett.
Besides her acting, she launched a music career in 2010 with singles 'Whip My Hair' and '21st Century Girl', and signed to Roc Nation , the record label belonging to her current mentor (and pal of Dad) Jay-Z – the youngest person ever to sign with the label. An inspirational young woman, but one who has most definitely made the most of her well-known surname, not to mention Daddy's connections.
Stella McCartney
The second child of a Beatle, Paul McCartney, and famously vegetarian photographer, Linda McCartney, Stella nevertheless had a relatively "normal" childhood: she attended state school and took an apprenticeship (ok, on Savile Row, but still) before heading to university.
Normality didn't last long though and just two years after graduation Stella was appointed creative director of Parisian fashion house, Chloé. At the time, fashion royalty Karl Lagerfeld was sceptical of her credentials: "Chloé should have taken a big name. They did, but in music, not fashion. Let's hope she's as gifted as her father."
As much as we love her designs, and her passionate campaigning for animal rights, we can't help but wonder would such a young, inexperienced designer be appointed to that position without a famous surname?
Kate Hudson
Daughter of Academy Award-winning Goldie Hawn, actress Kate Hudson describes her mother as: "the woman that I've learned the most from, and who I look up to, who has conducted her life in a way that I can look up to." Her biological father was an actor, and her adoptive father (the man her mother has been with since Kate was three years old) is Golden Globe-winning actor Kurt Russell. Maybe it was written in the stars that Kate would go on to grace our screens.
The sense that there might have been someone pulling strings for her is not lost on Kate however, who has said in the past: 'Well, for a while I felt I had to apologise for it, at the beginning of my career. I didn't want to talk about it.
"Cameron Crowe [the director of her first film] was asked by the press if he knew my parents when he cast me. He said: 'So what, it's like Goldie and Kurt turned up demanding I cast their daughter? It doesn't work like that'."
However, that film was Almost Famous and bagged her an Oscar nomination at just 21-years-old, and unless Goldie worked her magic on the Academy, we think it's safe to say that Kate earned that all on her own.
News