Find your path
WhatCareerLive
Last updated 07 Feb 2022
With so many options to choose from when you leave school or college, it can be difficult to know which way to go. Whether you've already got a good idea of what you want to do, or not a clue – you may be surprised by the range of different routes you could take to build a successful career. Take your time, and make sure you do your research before you make a decision!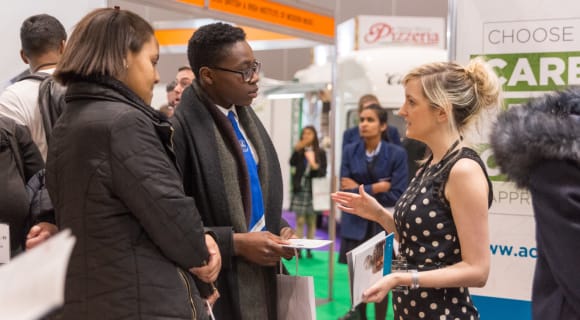 Events like What University? & What Career? Live are the perfect opportunity to explore your options under one roof. There, you'll be able to learn more about the many different paths you can take, including:
- Apprenticeships: These combine on-the-job training with classroom or home-based learning. As an apprentice, you will gain new skills, work experience and a regular wage – all while studying towards a qualification. Apprenticeships can help you to fast-track your career in your chosen field.
- Traineeships: A traineeship is a course with work experience for people aged 16 to 24. They last from 8 weeks to 6 months and can help with English and Maths if you need it. You will not be paid but you might get expenses, such as travel, and they can help you secure an apprenticeship or job.
- Finding a job: You can go straight into the world of work. When applying for jobs, remember employers will be looking for key skills like communication and teamwork. If you don't have any work experience, think about how you have developed skills through sports, hobbies or other extracurricular activities.
- University: Universities offer a huge range of courses and qualifications – from accounting to zoology. You can choose to study close to home or further afield, full or part time, with or without a year in industry… It's important to consider what you want to get out of the whole experience when making your decision about where to apply.
- Taking time out: If you're not sure where you want to go next, you could take a gap year between school and further study or work. You could use this time to get a part-time job and build up your savings, travel, volunteer to gain new skills and more.
Time to start exploring!
What University? & What Career? Live offers you the opportunity to gather the information and inspiration you need to take your next steps with confidence. Book your free ticket to the upcoming event at the NEC, Birmingham on Friday 4 & Saturday 5 March and get ready to:
- Meet representatives from 60+ organisations including J.P. Morgan, University of Oxford, NHS Health Careers, University of the Creative Arts, Aon and more, to get immediate answers to your questions.
- Choose from a packed programme of free talks, including nailing the application process and finding the right course for you.
- Take part in a Future Skills Workshop to improve your employability and stand out from the crowd in a competitive job market.
- Speak to a dedicated careers advisor to help you decide which career path is right for you and get tips on how to find your dream job.
- Receive one-to-one advice on your CV from an expert in the CV Clinic. You'll be able to find out how to create a CV that includes all the skills employers are looking for and how to avoid the classic mistakes!
- Interested in studying in the US? Head to the US University Zone to get advice and information on higher education across the pond.
- Visit the Creative Hub to learn how you can build a sustainable career in the creative industries. Whether you want to be on a stage, on screen or behind the scenes, learn how you can turn your passion into a profession.
You never know, you might discover jobs, courses, universities or even entire industries you had never even heard of!
For the full run down of what's going on at the event, and to book your free ticket to What University? & What Career? Live on 4 & 5 March, visit WhatCareerLive.co.uk
News