Top Employers for School & College Leavers Awards to be announced
Emma Finamore
Last updated 19 May 2015
The results are in: the best employers for apprenticeships, school leaver programmes and sponsored degrees, as voted for by those who really matter…school leavers!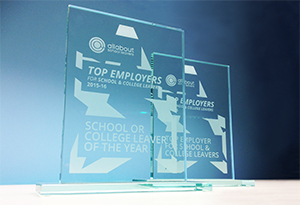 Apprentices, employees and sponsored degree students all over the country have taken part in this year's AllAboutSchoolLeavers Top Employers rankings, sponsored by BDO. The results have been finalised, as well as shortlists for a range of individual categories; the winners of which are to be announced at an awards ceremony this month.
The aim of the rankings is to not only celebrate the great work being done, but also to help the next generation of school leavers (that's you!) make well-informed decisions about their next career or education steps.
The rankings are based on employees and sponsored degree students' responses on a range of factors: job satisfaction, skills development, training, career progression, salary and benefits, company culture, level of responsibility, working environment, team relationship and work-life balance. All responses were anonymous, to ensure impartiality.
Some categories were voted for by current apprentices, school leaver programme trainees and sponsored degree students at each organisation; some were judged by industry experts, such as: "Most Innovative School & College Leaver Recruitment Campaign".
Other categories, like "Best use of Social Media in a School & College Leaver Recruitment Campaign", were judged by a panel of impartial Year 12 and 13 pupils: those best placed to decide.
One of the industry judges, Janet Hull, executive director of Creative Pioneers, said: "It was good to see a wide range of entries from different types of organisations; from established corporates to smaller entrepreneurial businesses; from management accounting to the restaurant trade. Not a 'one size fits all' exercise.
"When judging, I was on the look out for employers who got the bigger picture, who understood their role in helping school and college leavers navigate the world of work, rather than just shouting about themselves. I was then keen to see how they applied creativity to their outreach programmes, to capture the imagination of their target audience.
"Judging was encouraging and enlightening: well worth the hard work!"
The overall Top Employer and the winners of the individual categories will be announced at the Top Employers for School & College Leavers 2015 – 16 Awards ceremony at the Oxo Tower on London's South Bank, on Monday 18 May, as well as being announced as part of an eight-page supplement in The Independent this month.
Here are the 19 categories, with finalists listed in alphabetical order:
Best Intermediate Apprenticeship
Barratt Developments
Fujitsu
Hays Travel
Mayer Brown
Nomura
Best Advanced Apprenticeship
Be Wiser Insurance
Jaguar Land Rover
KFC GB LTD
Tangerine PR
Virgin Media
Best Higher Apprenticeship
Boots UK
Jaguar Land Rover
PwC
Smith & Williamson
Visa Europe
Best School Leaver Programme
Baker Tilly
BDO LLP
Deloitte LLP
EY
National Grid
Best Sponsored Degree
Barratt Developments
BBC
KFC GB LTD
Nestlé
PwC
Best Training
Baker Tilly School Leaver Programme
Barratt Developments Intermediate Apprenticeship
Ginger Nut Media Advanced Apprenticeship
Hays Travel Intermediate Apprenticeship
Visa Europe Higher Apprenticeship
Best Level of Support
Ginger Nut Media Advanced Apprenticeship
Hays Travel Intermediate Apprenticeship
KFC Advanced Apprenticeship
Mayer Brown Intermediate Apprenticeship
NG Bailey Intermediate Apprenticeship
Best for Job Satisfaction
E.ON UK Advanced Apprenticeship
Ginger Nut Media Advanced Apprenticeship
Fujitsu Intermediate Apprenticeship
Mayer Brown Intermediate Apprenticeship
National Grid School Leaver Programme
Best Opportunities for Skills Development
Boots UK Higher Apprenticeship
Deloitte School Leaver Programme
Hays Travel Intermediate Apprenticeship
Nestlé Sponsored Degree
Tangerine PR Advanced Apprenticeship
Best Company Culture
Arup
Boots
Hays Travel
Nomura
Tangerine PR
Best Opportunities for Career Progression
EY School Leaver Programme
Fujitsu Intermediate Apprenticeship
Jaguar Land Rover Higher Apprenticeship
National Grid School Leaver Programme
Visa Europe Higher Apprenticeship
School or College Leaver of the Year
Charlotte Wain, EY
Gabrielle Hempstead, IBM
Honeybea Youngman, Pret A Manger
Leah Musgrove, Somerset Skills & Learning
Melissa Hargreaves, BT
Best School & College Leaver Recruitment Campaign
IBM
KFC
Pret A Manger
Tangerine PR
Most Innovative School & College Leaver Recruitment Campaign
Baker Tilly
EY
River Cottage
Best Use of School & College Engagement in a Recruitment Campaign
BT
EY
IBM
KFC
Best School & College Leaver Recruitment Website
BDO
Jaguar Land Rover
Lloyds Banking Group
Nestlé
RBS
Best Use of Social Media in a School & College Leaver Recruitment Campaign
BDO
EY
IBM
Jaguar Land Rover
PwC
Best Newcomer
JP Morgan
Mayer Brown
Nomura
Tangerine PR
News