Tinie Tempah championing Teen Talent
Mr Tempah news – please don't 'pass out' from all the excitement…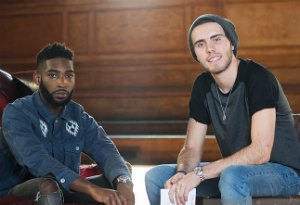 Tinie Tempah has become an ambassador for the National Citizen Service (NCS).
At an NCS National Youth Board meeting in London's Camden last week, Tinie surprised a group of 50 NCS graduatess who were helping to plan the future of NCS, as it was revealed he'll be working with the youth organisation.
NCS is the fastest growing youth programme for 16-17 year olds across England and Northern Ireland.
Over 130,000 young people have taken part so far, giving more than three million hours of their time to social action projects.
NCS helps teens build new skills for work and life, through a mix of amazing outdoor adventure and community projects.
According to a poll, 78% of teens that have been through NCS feel they've built important skills for the future.
A talented child musician, Tinie was bound for stardom from a young age and conceived his stage name "Tinie Tempah" at the age of 12 when most of his friends were more interested in watching Top of the Pops, than being on Top of the Pops.
Tinie will work as an ambassador for NCS throughout 2015, mentoring teens on the programme, using his fashion experience to help design a new NCS T-shirt for 2016 graduates, and visiting young people on NCS to help them make the most of their hidden talents.
At the launch, Tinie talked about the skills he uses every day in his roles as a musician, entrepreneur and fashion designer: skills they don't teach in the classroom.
He said: "When I was growing up I was lucky enough to realise my musical talents and given the opportunity to pursue it. Unfortunately today's teens don't always have the same opportunities.
"Chatting with teens today who are NCS graduates I can appreciate how valuable the programme is in giving teens the confidence and self-belief to uncover their hidden talents.
The announcement was captured on video by YouTuber, Alfie Deyes - one of the UK's leading vloggers. Almost four million people are subscribed to his YouTube channel.
Alfie shared his NCS experience with Tinie, having gone on a tour of the summer 2013 programme. He gave Tinie the inside track on NCS and talked about the inspirational young people he met on tour.
"NCS equips young people with the skills they need to follow their dreams and if I were 16 or 17 I'd sign up today and have the best summer ever whilst setting myself up for Year 12 or Sixth Form College."
Lauren Cruddas went on NCS in the summer of 2014, and said: "I was a bit apprehensive before starting NCS but signing up was the best decision I ever made. Not only did I make lots of friends, it taught me useful skills I'll have forever.
Pitching in a Dragon's Den was especially useful and helped me improve my presentation skills – just in time for my university interviews!"
Joy Gingell, completed the programme in 2013, before launching a social action project. Her project, Medley, uses unwanted musical instruments to get young people into music and her work with NCS has resulted in a musical takeover of Victoria Station.
Joy said: "NCS gave me the confidence I needed to go public with my music. I was able to make a difference in my local community by getting old instruments to people who needed them – and after performing at Victoria Station I've been approached by record labels."
For more information, and to ensure you don't miss out on NCS this summer sign up via ncsyes.co.uk
News