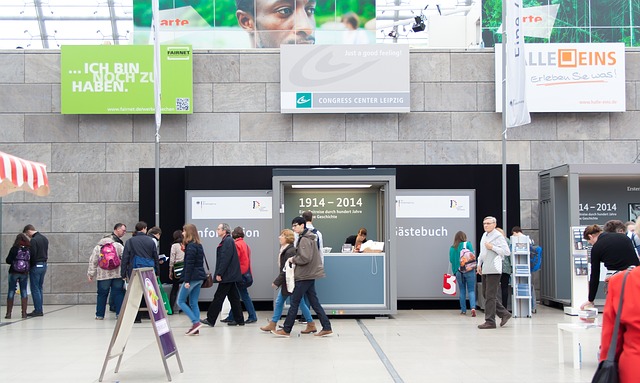 Apprenticeship fairs are a fantastic way of finding out about apprenticeship opportunities.
You could spend your time aimlessly browsing the internet for apprenticeships, trying to fight the urge to go on Facebook. Or you could go out there, be proactive, meet some people and get the information straight from the horse's mouth.
If you have no idea which industry you want to work in, apprenticeship fairs can provide you with some much-needed inspiration.
If you know exactly which area of work you want to enter, apprenticeship fairs are excellent networking opportunities, as you'll have the chance to meet the representatives of companies offering apprenticeships in your industry of choice.
Wait a second! What is an apprenticeship fair?
Apprenticeship fairs are events where employers, training companies and colleges will come to promote their apprenticeship opportunities.
Some apprenticeship fairs are huge national events, like Skills London which will be held in December at the ExCel centre. Other apprenticeship fairs are much smaller and are held at local schools and further education colleges.
At an apprenticeship fair, you will encounter a collection of exhibition stands which will be manned by representatives from companies and other organisations that offer apprenticeships.
They are there to talk to you about their schemes and give you more information.
This is your opportunity to ask questions and figure out which apprenticeships appeal to you. You might also get the opportunity to attend a series of talks which will give you more information about different careers and companies.
Read More
Why should I go to an apprenticeship fair?
Why not? Never underestimate the value of personal contact with company representatives.
It's a great way to get an insight into life in their industry, to ask any questions you may have, to learn more about their company culture and to find out what they expect from apprenticeship applications.
Apprenticeship fairs are also great places to practise talking to people in a professional capacity. Who knows, if you impress the company representatives at the fair, they might remember your name and it could work in your favour when you submit your application.
Even if the career fair is just a very small event at your school, if you get talking to the exhibitors or the person giving a talk, an apprenticeship opportunity might open up. It's always worth a shot!
Before the apprenticeship fair…
Before you rock up to the apprenticeship fair with a strategy to acquire as many freebees as possible, you should think about what you really want to get out of the event.
Do you want to come away with a variety of career ideas, or do you want to find out more about a specific company's apprenticeship? After all, an apprenticeship will last much longer than a free pen.
You'll be able to find out which companies will have exhibits at an apprentice fair before you get there. This means you've got time to do your research! Read up a little bit about who they are and what apprenticeship opportunities they offer. You might also want to think of some questions that you want to ask them.
If you have special educational needs or a disability, now is a good time to get a feel for the company and ensure that they will provide the best possible support for you.
It'll make it far easier to approach the exhibitors if you already know a little bit about their company. If it's a big apprenticeship fair, you might want to identify the companies or stalls you want to target, so you can head straight to their stalls.
If you're really keen on working for a company that you know will be exhibiting, and want to use this career fair as a networking opportunity, you should practise an opening pitch. This will make you more comfortable when it comes to talking about yourself and your skills.
Take along a CV or a small card with your contact details and a brief line about what kind of apprenticeship you're interested in.
It's also a good idea to bring a notebook, pen and a folder or bag to put any company literature or brochures in. You should also pay attention to how you dress. Nobody will expect you to turn up in a suit, but you should try to look presentable.
You don't have to look like an aging accountant, but try to steer clear of hoodies, t-shirts with "hilarious" slogans, or pyjama bottoms.
At the apprenticeship fair…
Preparation is essential, but it's what you do at the apprenticeship fair that is most important. Here are some top tips on how to impress those company representatives…
1. Don't storm around the apprenticeship fair with a mob of friends. Try to approach companies by yourself or with one other friend. Be confident, go up and talk to the people on the stall and enquire about their apprenticeship opportunities.
If you get nervous talking to people, you might want try building up your confidence by approaching the stalls of companies that you aren't as interested in first as a 'dress rehearsal'.
2. Ask relevant questions. Don't quiz them on the meaning of life; ask them about the company culture, the apprenticeship training, how many apprentices they take on, or what they look for in potential employees.
3. Go with an open mind. There's a massive wealth of apprenticeships across many different sectors, and apprenticeship fairs are great places to find out about the many different options. Don't dismiss something just because you think it might be tedious.
Don't believe the hype! Dismiss the stereotypes and find out about the entire spectrum of apprenticeship opportunities. The apprenticeship fair is your opportunity to get honest advice from the companies and employers themselves, and you might just be suprised.
4. If you're going to a big apprenticeship fair, arrive early to avoid the crowd. Don't get overwhelmed; you should have a list of exhibitors you want to talk to, so just get stuck in and make sure you talk to everyone you plan to.
6. Let the company representative know what you know about their company and what interests you about their apprenticeships.
Be enthusiastic and show them how interested you are, but don't monopolise their time; it's their job to talk to as many people as possible, so be aware when it is time to move on.
After the apprenticeship fair…
An apprenticeship fair is just the start. Once the event has finished, you need to put all your hard work into action.
Use the information you've gathered to conduct more research, send off an application for an apprenticeship, or simply email the contacts you made to thank them for taking the time to speak with you. You could start to look at apprenticeship advertisments and employers in the sectors which intrest you - even if you're not ready to apply yet, it's good to see what's out there!
More articles like this