Top 5 Tips for Packing up your Life
Emma Finamore
Last updated 13 Jul 2015
Exams are nearly over and you can almost taste freedom. But there's one last thing standing between you and your plans: packing.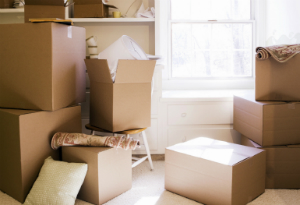 Whether you're moving into new student digs or heading home for the summer, this yawn-fest of a chore is set to put a halt on your post-exam partying. However, there are some easy ways to get your packing done quickly, with minimum effort.
1. Be ruthless
You'll have amassed a lot of junk throughout the year – traffic cones (obviously), fancy dress costumes, empty bottles turned into candle sticks – and while you may have many happy memories attached to such items, packing's a great opportunity to de-clutter.
Go through your items and make sure you're only packing what you need: get rid of everything else of give it to the local charity shop.
2. Block out distractions
Resist the temptation to switch on daytime TV as a distraction: you'll just end up stuck in the dreaded chat show time warp. Switch it off and any visual stimulation that will fuel procrastination.
Radio is a much better choice to keep you focused: instead of flicking through your own music, let someone else do the hard work, and the chatter in between songs keeps cabin fever at bay.
Follow our tips and you'll soon be on the road to freedom
3 Organise your moving boxes
If you've than one room, use one moving box per room. So, kitchen things in one, bathroom stuff in another, you get the picture…your future self will thank you when it comes to unpacking in your new abode!
Knowing what's in each box and being strategic about your packing will help you avoid losing anything during the move. Vital to make sure you don't leave behind a much-needed kitchen appliance or those imperative revision notes!
Don't get into arguments...decide sensibly who should take what
4. Discuss your plans with your flatmates
Don't just assume that moving-in kettle you all chipped in for is yours just because you got to it first on packing day.
Split up your joint belongings equally and make sure your flatmates are all on the same page. It may mean you have to pay your flatmates for their share, or they may already have a fully furnished flat to move to and won't need certain items.
5. Update your address
Make sure your university is up to date with your mailing address and The Student Loans Company too. If you're claiming a higher loan due to living away from home, they will need your new term-time address to check. If they don't have this information, your application may be investigated and your income could be put on hold.
Make sure all of your details are up to date across all platforms, and leave contact details behind for future residents to call should they receive any items in your name.
News