UK universities slip in world rankings
Emma Finamore
09 May 2016
The University of Bristol and Durham University have both dropped out of the global top 100 altogether. Oh dear.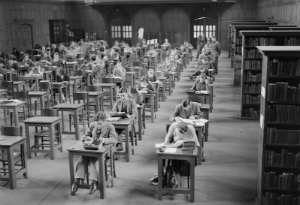 A number of UK universities have fallen in a list of the world's most prestigious universities, compiled by Times Higher Education.
According to the Times Higher Education World Reputation Rankings, several European countries have lost ground, while their Asian counterparts have increased their share of the global list.
While the UK remains the second most-represented nation in the list with 10 universities, seven of those have slipped to lower positions on the list than last year, while two institutions – the University of Bristol and Durham University – have fallen out of the top 100 altogether.
Cambridge and Oxford, however, have retained their positions in the top five universities, coming in fourth and fifth place respectively.
Three London universities retained their position in the top third of the table: Imperial College London (at number 15), University College London (at number 20), and the London School of Economics and Political Science (at number 24).
However, each of the three remaining UK universities in the top third saw their position fall slightly on last year.
The University of Edinburgh (38), King's College London (43), University of Manchester (joint 49), London Business School (between 81 and 90) and University of Warwick (between 81 and 90) also made the top 100.
However, London Business School was the only UK institution that improved its ranking year on year. Edinburgh, King's and Manchester slipped down from their 2015 ranking, while Warwick stayed the same as last year.
Elsewhere in Europe, four of six German institutions have dropped down in the rankings, as have four of five universities in the Netherlands – while Denmark and Finland, who each had one institution in last year's rankings, have dropped off the list altogether in 2016.
Meanwhile, Asia has 18 institutions in the 2016 rankings, up from ten last year. Japan and China are the strongest Asian performers, with five universities in the top 100, an increase from two each last year.
According to the rankings, the top 10 global universities based on reputation are:
– Harvard University, US
– Massachusetts Institute of Technology, US
– Stanford University, US
– University of Cambridge, UK
– University of Oxford, UK
– University of California, Berkeley, US
– Princeton University, US
– Yale University, US
– Columbia University, US
– California Institute of Technology, US
News