International Women's Day: encouraging more women into computer programming careers
Emma Finamore
07 Mar 2016
In the week we celebrate and encourage equality, one organisation is trying to address the gender imbalance in computer programming.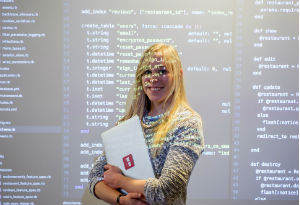 A UK organisation is offering discounted training course rates to women, to encourage more of them to consider careers computer programming.
Makers Academy is a 12-week computer programming bootcamp; like Oxbridge meets the Royal Marines, but for people who want to learn to code. It is designed to turn people with no knowledge of web-development into job-ready junior developers in just 12 weeks.
At Makers Academy, women already represent 35% of the total programming graduates – more than double the national average (17%) of female computer science undergraduates.
In the UK, women make up just 14.4% of the tech workforce and it is now widely accepted that more need to be attracted into the sector if a large enough pipeline of skilled programmers is to be created to fill available and future vacancies.
To help tackle this, Makers Academy is offering a £500 discount to all women accepted onto one of its intensive 12 week full-stack courses.
There are no formal prerequisites to do the course, but students are subject to an application process – including an online application form and then an interview.
The interview is designed to test how students think rather than what they know; to be selected for the course students must demonstrate a real passion to learn coding.
Mishal Islam completed a Makers Academy course in October 2014 and is now a Junior Developer at Deloitte Digital. "I have always enjoyed coding but had no idea how to make a career out of it," Islam said.
"My training provided me with not only the knowledge I needed to go into the technology sector, but the confidence and self-belief to take the leap."
Vanessa Virgitti took a risk when she left her job as an online marketing manager to complete the Makers Academy course in 2015, but it paid off and she now works as a Junior Developer at Mergermarket.
"I started my career as an online marketing manager as a way of combining my business studies education and enjoyment of technology," Virgitti said.
"Over time, I became more and more interested in learning about the technical side of marketing, which led to me undertaking the Makers Academy course.
"The knowledge and skills gained has stood me in good stead to progress my career in the digital sector."
Jordan Poulton, Director of Sales and Marketing at Makers Academy, said: "The technology sector is growing at a rapid rate and we need to ensure that women of all ages and career stages are encouraged to gain new programming skills that will put them in the running for highly paid and fulfilling jobs in the industry.
"Makers Academy prides itself on its inclusive environment where women can train alongside their male counterparts for jobs that will be rewarding in so many ways."
News