New app promises school leavers safe, authentic gap years
Huw Elliott
Last updated 01 Sep 2016
A new digital platform has launched to allow residents of cities around the world to share information about their homes with travellers, to help improve gap years.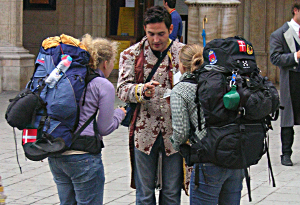 Zipskee aims to connect travellers looking for an authentic experience of new locations and cultures with those who can help them find it. It allows urban residents to share information with travellers about the best spots and activities in their home cities, with a particular focus on "non-touristy" experiences – ideal if you're looking to squeeze a little more out of your gap year.
Locals can offer recommendations and reviews of food, transport, places to visit, scenic spots, and even bits and pieces of local history and culture.
"While travelling in Austria, I wanted a deeper cultural experience," said CEO and co-founder Evan Hung. "I had one Austrian friend who was gracious enough to show me the real Austria, and I thought, 'How great would it be if everyone had a friend like that in every city they visited?' And so, Zipskee was created to fill that gap."
Users, both travellers and guides, create an account and set up a profile with their interests and languages, to help them find the best people to advise or be advised by – they will be matched with other users who share the same passions.
By adding their current city and whether they're travelling or guiding, users can find locals with relevant information easily, and Zipskee's built-in chat client allows them to exchange recommendations quickly and easily without any personal details attached.
Users can even share their locations and meet up in person, and the hope is that travellers and guides alike can build lasting friendships this way. Safety is naturally a concern, but Zipskee allows travellers to review their guides publicly, so people can be secure in making new contacts and even meeting up with locals.
"The world is filled with amazing people, beautiful landscapes, and unique experiences," said Hung. "In such a well-connected world, it shouldn't be so difficult for travellers to connect with locals or other travellers to genuinely experience a destination. With Zipskee, it no longer needs to be a challenge."
Prospective gap year travellers may wish to look into the app, coming later this summer, but the desktop site is already live and ready for use here.
News