Q&A with Alexander Malcolm, Mercedes-Benz Parts Operations Specialist Apprentice
Alexander has been undertaking an Apprenticeship as a Parts Operations Specialist with Mercedes-Benz of Macclesfield, was awarded Apprentice of the Year by Mercedes-Benz and was also the winner of the IMI Outstanding Student in a non-technical discipline. We asked him why he'd chosen an apprenticeship and why Mercedes-Benz?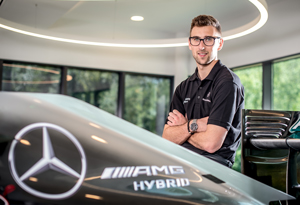 Given the variety of options available to you, why did you choose an Apprenticeship?
After doing my A Levels I didn't want to go to university so looked for other options available. I had a look on the Government's Apprenticeship website and found that Mercedes-Benz were offering an Apprenticeship in Macclesfield so I applied for it. I felt that going for an Apprenticeship would give me the correct training I would need for the job over 3 years.
What does your role involve?
My role involves dealing with parts enquiries from internal and external customers and getting them parts for a vehicle as quickly as possible. Most of our work comes through our busy workshop but we also have regular independent garages who require parts.
What is your favourite thing about your job?
My favourite part of the job is the customer interaction and helping with any queries they have. Although some of the queries they have are challenging, the satisfaction you get once the job is complete is great and makes it all worthwhile.
How did it feel to win Apprentice of the Year?
Unbelievable! Just to complete my Apprenticeship with such a great company was a fantastic achievement, but to get awarded apprentice of the year was the icing on the cake. It really did make the 3 years of hard work I put into this Apprenticeship worth it.
As part of winning the title, you spent a week at MERCEDES AMG PETRONAS F1 (TM) during the British Grand Prix Week. How was that experience?
It was an amazing experience. To be able to work among people who all worked so hard and all had the same goal was fantastic. And obviously to work within a team that I support, that's something that I will never forget.
Based on your experience, what advice would you give to someone who is considering what to do with their future/career path?
Do what you want to do. If you don't do what you want to do, you won't enjoy it as much. There's a lot of pressure from schools wanting students to go to university. That means that they very rarely speak to students about other opportunities for them. Knowing what I know now, I would encourage current students to look into Apprenticeships in a little more depth.
I was fortunate enough to find an Apprenticeship with a fantastic brand and great support from the Mercedes-Benz Apprentice Academy as well as my workplace. Overall, my experience has been unforgettable and I am now looking forward to what the future holds.
To find out more, or to locate a vacancy please visit www.mercedes-benztraining.co.uk/apprenticeships
News