Labour Party will Cut Tuition Fees by £3K if it Wins the Election
Ed Miliband will reveal today how a Labour government would reduce the cap on university tuition fees from £9K to £6K, and details of how the party plans to pay for such a reduction, which could include reducing tax relief on pensions for high earners. But what would the impact of such a reduction really be?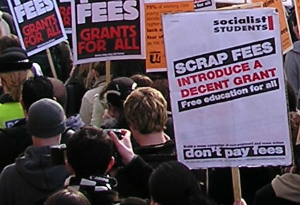 The Labour leader will say in a speech in Leeds later today that the rising level of student debt has been a "disaster".
Miliband will say the current system is putting unacceptable levels of debt – on average £44,000 - on to young people and proving expensive to the taxpayer, because so much of student loans has to be written off.
"The government has designed a system which is burdening students with debt today and set to weight down the taxpayer with more debt tomorrow," the Labour leader is expected to say.
"This is a system that will have added an extra £16bn more than predicted to public debt by the end of the next Parliament. If left unchecked, the system will have added £281bn to debt by 2030.
"And much of this money will never be paid back. By the late 2040s, student loan write-offs will be hitting £21bn a year - almost double the entire cost of police services in England and Wales. It must go down as one of the most expensive broken promises in history."
However the party's opponents disagree. A Conservative spokesman said that under the current system, the numbers of students from disadvantaged backgrounds were at their "highest ever level".
Even a Liberal Democrat, Business Secretary, Vince Cable said cutting fees would be "completely financially illiterate".
And Universities UK has warned that limiting the fees to £6,000 per year would create a £10bn funding gap over the next five years, threatening "significant damage" to the higher education system.
"Cutting the fees cap from £9,00 to £6,000 creates a £10bn funding gap over the next parliament," said Christopher Snowden, vice-chancellor of the University of Surrey and president of Universities UK.
"Such a shortfall, if not met in full from other sources of public finance, could cause significant damage to the economy, to social mobility, to student choice, and to our universities. For universities, it is a funding question, not a fee question."
In a speech in Leeds, Miliband will explain how cutting fees would be funded, which could include reducing tax relief on pensions for high earners, which would be used to provide funds for universities to bridge the gap from reduced fees.
University heads have also argued that the increase in tuition fees to £9,000 has not deterred applications from poorer students, instead the numbers of poorer students have risen.
Vice Chancellor of London South Bank University, Prof David Phoenix, welcomed the pledge: "Under the current system of £9,000 fees a large number of students will not be able to pay back their loan. We are storing up problems for the future by creating a large hole in public finances.
&quot The Labour party's proposal would reduce the level of loan write off to be dealt with by future tax payers, and should therefore ensure the sustainability of the Higher Education sector. Crucially for universities, Labour's policy will maintain the level of funding universities receive by making up the £3,000 shortfall."
The Labour leader will seek to reassure university heads that they will not lose out in the proposed changes.
The National Union of Students (NUS) has welcomed plans for a cut in fees: "Forcing debt on to students as a way of funding universities is an experiment that has failed," said NUS vice president, Megan Dunn.
"Higher education is a public good which should be publicly funded and shouldn't involve any additional charges for students or graduates, but lowering tuition fees."
News