National Women in Engineering Day
Emma Finamore
Last updated 21 Jan 2019
Less than 10% of engineers in the UK are women. Which, basically, sucks. In an age when girls are told they can do anything, and more and more apprenticeships are springing up, why are so few of them moving into engineering careers?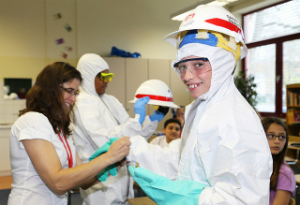 National Women in Engineering Day (NWED) was set up last year by the oldest women's engineering organisation in the world, Women's Engineering Society (WES), to celebrate their 95th anniversary. The day aims to break down gender barriers by encouraging and supporting more young women to consider engineering as a career.
Here are four women at different stages of their careers, speaking about the imbalance in the engineering industry, and how apprenticeships might be the key to fixing the problem.
Jess Batts, 22, is a Nuclear Safety Engineer at EDF, who joined as an apprentice straight from school four years ago.
"People are often quite surprised when I tell them I work in nuclear energy," she said. "Perhaps because they still associate scientists with a nerdy stereotype, or perhaps because the term 'nuclear' is still something that people don't quite understand.
"STEM is in everyone's lives. It shapes the world around us; it is our past, present and our future. We therefore need to engage young people around the opportunities available in this field, to help preserve our future."
Rachel Liddiard, 26, is a Project Engineer at Mondelez, which makes products for iconic brands like Cadbury, Bassett's and Oreo.
"I've always loved fixing and building things," she said. "I love to know how things work and our world is continually innovating. I wanted to be part of that innovation.
"There are misperceptions holding girls back from considering a career in engineering. Another problem is the way women are portrayed in everyday media – You don't get the impression women are meant to be the fixers or the solvers.
"At a young age we're taught girls play with dolls and boys play with cars. When I was younger I played with both and during my GCSE's I decided that engineering was for me.
"I've never found that being a woman has been a hindrance when wanting to join the profession, however, finding girls who want to become engineers is the difficult bit.
"Engineering apprenticeships are a really good way for women to get into the food and drink industry, and I know quite a few women who have started their careers through this route, progressing through roles and doing great things.
"Workshops at schools are always great because they demonstrate how engineering is actually a really fun, interesting and an engaging role that anyone can do. Getting kids to think of a solution by building a water-powered rocket or the tallest tower from spaghetti and marshmallows is both hands on and appealing and fun for everyone!
"I sometimes hear, 'engineering, that's an interesting choice for a girl,' or 'why did you choose engineering?' My answer is always, 'why not?!' If I was male I wouldn't get these questions. That's why I'm really passionate to talk about my inspiration to become an engineer and to encourage more women to do the same."
Top architect and RIBA president elect, Jane Duncan, spoke to The Telegraph today about why all girls should consider a career in her field.
"While women live, work and play in built environments all around us, they only make up 20 per cent of practising architects," she said. "Architecture has the highest percentage of women in the entire industry (engineers are only six per cent, tradespeople only 1.2 per cent).
"But the number must continue to grow, as we can never create truly appropriate buildings and environments when its practitioners do not mirror the society it is designing for. Whether domestic or international, our clients are now increasingly diverse, yet we struggle to reflect the communities in which we work, or the people who commission us."
Lastly, Ellie Turner, 19, is a Smart Metering Apprentice at EDF who joined the apprenticeship last year, and is keen to address the shortage of young women pursuing a career in engineering.
"I think women often don't have the confidence to come into a male dominated sector, but they really should," she said.
"I gained confidence and knowledge from hearing about my sister's experience as a gas engineer – these careers aren't only for men and we need to break the stereotype!"
News