Girls in Tech: Young Coding Winners Announced
A campaign to encourage girls in school to take up STEM subjects (science, technology, engineering and maths) announced the winners of their recent all-girl hackathon today at an event today.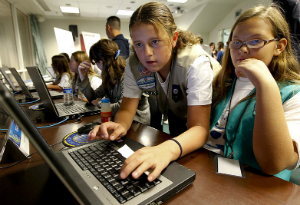 On International Women's Day earlier this month, 50 girls between the ages of five and 23 came together to learn HTML, CSS and JS, allowing them to play around in the exciting world of code. They created apps with their new skills, and the best apps were announced at a conference today.
The hackathon event was co-ordinated by Stemettes, an organisation that brings the opportunity of technology to young girls all over the UK through mentoring schemes, panel discussions and Hackathons.
Head Stemette, Anne-Marie Imafidon, who presented the awards, said: "Every company is a tech company now - we need to safeguard women's place in the future economy.
"At the hackathon we had a steady supply of Haribo, free wifi and laptops, and plenty of fun."
Fellow Stemette, Samantha Cooper, said: "When you looked at what they did you would think they'd been coding for weeks!"
The first winner announced was Hannah Simpson, aged just six years old, who created an app allowing her to message her mum and dad at the same time. She said the hardest thing about her task was "making sure the buttons work" and that she was definitely going to do more app building in the future.
Abirah Chowdury, aged nine, was the second winner to be announced, for her app that sends messages that talk back to you, and allows the user to play games.
A group of 14-15 year-olds won the People's Choice prize for their digital business card app, which they described as: "Easy, green and totally stress-free."
The overall winner was Madeleine Todd, 17, who created an app to go along with the conference today, which gave an overview of the event as well as timetables and delegate's profiles
As the winners were applauded off the stage with their hard-earned trophies, Karen Gill MBE said: "The future of tomorrow – it looks really bright, right?"
We couldn't agree more.
News