Gamers, are you ready? New School Leaver courses announced
Emma Finamore
Last updated 17 Jan 2018
Leaving school, but want to forge a career in the gaming industry? Well we have good news for you…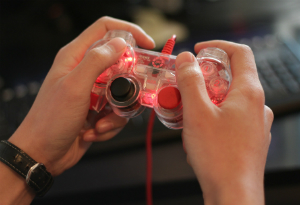 A new Level 3 Diploma was announced today, in Games, Animation and VFX Skills, as well as plans for three new higher apprenticeships: one role in games and two roles in VFX.
NextGen Skills Academy, an organisation backed by both government and industry funding, will launch the diploma (its first course) this September, with awarding organisation AIM Awards. It will be available at a number of further education colleges across England, including North East Surrey College of Technology (NESCOT), Sunderland College, Truro & Penwith College and Uxbridge College.
The diploma is equivalent to three A Levels. As well as the delivery of relevant and up to date course content (been written by industry experts) to replicate today's real-world work environment, students joining the course will have unprecedented access to industry mentors and industry-designed live briefs, set and assessed by a group of leading companies from the sectors being studied.
AllAboutSchoolLeavers spoke to gaming experts last month for their expert advice on how to get ahead in the industry, including course and portfolio tips.
Over two years, students will build portfolios relevant to industry needs and as preparation for either working in these sectors or as a progression to higher education or higher apprenticeships.
NextGen is also helping to create three higher apprenticeships: Quality Assurance Technician, led by Rebellion; Junior 2D Artist, led by Double Negative; and Assistant Technical Director, led by Framestore.
"NextGen's aim is to be a leading developer of relevant, up to date qualifications and apprenticeships that will allow young people to develop exciting careers in the digital creative industries, while also providing employers with a dynamic talent pool of skilled individuals that will enable them to grow successful businesses," said Gina Jackson, Managing Director at NextGen Skills Academy.
"This is all about preparing students for the roles that employers are recruiting today and it's very exciting to see the first round of our hard work come to fruition with the launch of the Games, Animation and VFX Skills Diploma and our three higher apprenticeships."
Sound up your street? Visit the website, and take your career to the next level. If it isn't check out the rest of our post-16 options that include School Leaver Programmes and much more, here.
News