School & College Leavers vote for top Employers
Emma Finamore
Last updated 19 May 2015
The UK's top employers for school and college leavers were awarded for their excellence last night in a ceremony at London's Oxo Tower.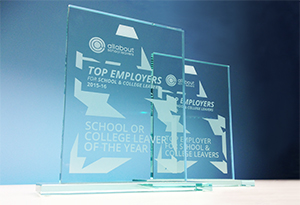 AllAboutSchoolLeavers used detailed satisfaction surveys of apprentices, school leaver programme trainees and sponsored degree students to compile a list of the best employers, and announced the results at the third national Top Employers for School & College Leavers awards ceremony.
As well as Top Employer, 19 individual awards were given out, rewarding high performance in specific areas such as recruitment, social media, career progression and company culture.
National Grid was named Top Employer for School & College Leavers, as well as Best School Leaver Programme, in a great night for the UK transmission service.
Tangerine PR claimed a total of three awards: Best Newcomer, Best Advanced Apprenticeship and Best School & College Recruitment Campaign.
The company's Juice Academy, the arm that deals with apprenticeships, said on Twitter: "It's a hat-trick!!! Three awards including Best Advanced Apprenticeship. Couldn't be more proud."
Global professional services provider EY also claimed three awards, including Company with the Best Opportunities for Career Progression.
Not just employers, but trainees themselves were celebrated for making a valuable contribution to their chosen industry: 18-year-old Honeybea Youngman was named School or College Leaver of the Year, for her outstanding work on The Pret A Manger School Leaver Programme. She said: "I have really loved the responsibility and independence that I have gained.
"I can honestly say it has been a great transition from school to work."
Pret's School Leaver Programme Coordinator, Kate Nicholls, said: "We are just so proud of Honey and how much she's achieved. Honey has grown up with us. We trust her 100%.
"She's a critical part of the shop, and has responsibility for running shifts even though she's still only 18. She knows how to be in control and we totally respect her."
Joanne Iceton, one of the industry judges and Head of Communications & Public Affairs at Semta, described Honeybea as "a fantastic individual who deserves to win, the distance travelled in her personal achievements is huge".
She said: "Pret should also be rewarded for supporting her too; they could see her potential despite some early setbacks. Her winning will give others hope and a vision of what can be achieved."
Sponsored by BDO, the fifth largest accountancy firm in the world, the awards included household names to growing SMEs, such as PwC, Nestlé and BBC. It is the only national award to encapsulate all the options available to school and college leavers: apprenticeships, school leaver programmes and sponsored degrees.
Lucy Dolan, recruitment manager at BDO, said: "Celebrations such as these are vital in helping to raise awareness of apprenticeships, school leaver programmes and sponsored degrees across the UK. There is no time like the present to choose an alternative route to university."
A total of 13 awards were based on anonymous employee satisfaction surveys completed by trainees whilst working for the companies involved. A further four categories were judged by a panel of 12 impartial industry experts, and a final two by a student judging panel.
The survey asked questions on everything from job satisfaction, career progression to company culture and salary and benefits. Websites were judged on their clarity, user friendliness, accessibility and aesthetic appeal, while social media channels were judged on content, voice, creativity, reach and integrity.
Industry figures on the panel included Jonathan Ledger, chief executive of Proskills UK, Janet Hull, executive director at Creative Pioneers and director of marketing at IPA, and Amy Crooks of National Skills Academy for Food & Drink.
The aim of the event is to encourage ambitious school leavers everywhere to consider alternative career paths. With apprenticeship schemes, school leaver programmes and sponsored degrees now available in over 170 industries, from aerospace and accountancy to fashion and finance, there are more alternative to university than ever.
Full awards list and winners below:
- Top Employer for School & College Leavers 2015-16 – National Grid
- Best Intermediate Apprenticeship – Nomura
- Best Higher Apprenticeship – Visa Europe
- Best Advanced Apprenticeship – Tangerine PR
- Best School Leaver Programme – National Grid
- Best Sponsored Degree – Nestlé
- Best Newcomer – Tangerine PR
- Best Training – Barratt Developments Intermediate Apprenticeship
- Best Job Satisfaction – Mayer Brown Intermediate Apprenticeship
- Best Level of Support – Ginger Nut Media Advanced Apprenticeship
- Best Company Culture – Hays Travel
- Best Opportunities for Career Progression – EY School Leaver Programme
- Best Opportunities for Skills Development – Deloitte School Leaver Programme
Awards Decided by Industry Panel:
- School or College Leaver of the Year – Honeybea Youngman, Pret A Manger
- Best School & College Leaver Recruitment Campaign – Tangerine PR
- Most Innovative School & College Leaver Recruitment Campaign – EY
- Best Use of School & College Engagement in a Recruitment Campaign – EY
Awards Decided by Student Panel:
- Best Use of Social Media in a School & College Leaver Recruitment Campaign – Jaguar Land Rover
- Best School & College Leaver Recruitment Website – BDO
News