How to become a Young Entrepreneur, by Someone in the Know
EY have just launched a new platform - My Future. Now. - celebrating the different ways modern school leavers pursue their career ambitions, and to help budding entrepreneurs navigate these various routes. We caught up with My Future. Now. mentor, Fraser Doherty, the quintessential "young entrepreneur", to hear about his own unique path to success.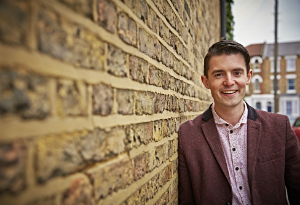 Firstly, what do you do?
I run a company called SuperJam, making 100% fruit jams for the major supermarkets.
What does the average day look like for you as a young entrepreneur?
There isn't really any typical day - I spend a lot of my time working on new recipes, packaging ideas and pitching to retailers in different countries around the world.
There's definitely a huge amount of travel involved in my business, which means I don't spend much time at home – I get to see the world and experience new cultures, but of course it can also be quite exhausting!
When you work with a small team, even if you are the founder, you have to be willing to pull up your sleeves and pack boxes or answer customer phone calls if needs be!
How did you get where you are now?
I started my business when I was fourteen, using my Grandmother's recipes and selling my homemade jam door to door in the neighbourhood. I got a lot of support from my teachers when I was still at school and also from my university.
I studied business up to Master's level but to be honest the best lessons I have learned have been from trying my ideas out in the real world. I would say that if university excites you, do it. If it doesn't, don't. Life is too short to do anything that doesn't excite you.
What will you be doing in your role as a My Future. Now. mentor?
I definitely don't pretend to be any kind of expert but I have certainly learned a few things about getting your business idea off the ground.
The lessons I have learned will hopefully be helpful to other young people who are making decisions about whether or not to go to university and perhaps who are thinking of starting their own business.
What advice would you give someone who is coming up to school leaver age and wants to become a young entrepreneur like you?
I'd say don't be afraid – you have nothing to lose from giving your ideas a shot. Find a mentor, someone who has been there and done it before who can maybe give you some advice. Also, it's a good idea to start small – you don't need to jump in at the deep end!
Lastly, what does the future hold for you?
I'm very excited to say that SuperJam is going from strength to strength – we are about to launch a whole new update to our packaging, repositioning as a luxury brand. I have also been involved in setting up the UK's largest craft beer club, Beer52.com and a successful ultra-fresh coffee subscription business called Envelope Coffee.
To find out more about EY's new project, visit the My Future. Now. website.
News